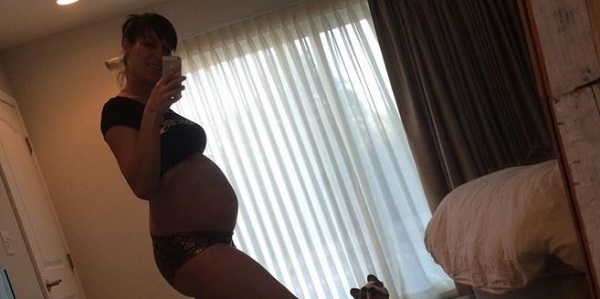 From acrobats to kick-boxers, mums-to-be all over the world have recently been sharing their journeys as they continue to exercise and work out during pregnancy, and Jill Maclean has added something totally unique to the plate.
Jill, who goes by the name Cleo 'The Hurricane', is an Australian pole-dancing champion who is expecting her first child – a son – with her husband Mike.
While Jill may be just a week away from giving birth, she has not let that stop her from continuing on with her pole-dancing, and this week she shared an inspirational blog post explaining why.
Admitting that she loves being pregnant, the 36-year-old revealed that while she has had to tweak her routines, pole-dancing has helped to make her feel confident and sexy ahead of her little one's birth.
"I'm so glad I didn't hang up the heels completely during my pregnancy...I'm not really 'pole-dancing' that much (definitely no tricks or inversions) but I have been taking flexy pregnancy pics nearly every month in my pole gear, as it is such a significant time in my life and what a better way to document it...in the splits or on the pole!" she wrote.
The mum-to-be added: "I'm not only doing this to share my journey with you, but I do it for me...To feel sexy again! Like a hot mumma! ...and how much fun it's been!"
Of course, naturally, Jill has come in for some criticism, and she didn't shy away from addressing this in her blog post. Indeed, she even shared screenshots of some of the more negative messages she has received from her followers, with some complaining that it is inappropriate for her to pole-dance while pregnant, and others even suggesting that she does not have respect for her body.
In response, Jill said that she is continuing on with her beloved dance as a mode of self-expression – as well as to inspire other mums and mums-to-be out there to embrace their passions.
"This is how I express myself, and I'm sure my son is gonna think his mum rocks when we bring out these pics on his 21st birthday! My husband also thinks I'm pretty cool!" she added.
Check out Jill in action in this video, from January.
SHARE if you think Jill is an inspiring mum-to-be.