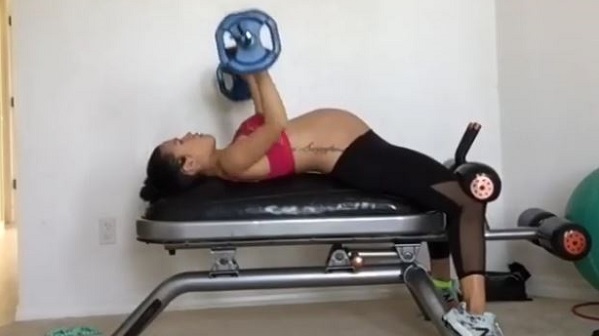 From kick-boxing to acrobatics, the mums of Instagram continue to push the boundaries when it comes to what they can do during their pregnancies, and Sia Cooper is adding her name into the mix.
US-based fitness fanatic and blogger Sia is currently eight months pregnant with her second child, but she hasn't let that stop her from working out on a daily basis using everything from exercise balls to weights.
Through her Instagram, not only has Sia been able to document her own pregnancy fitness journey but she has also shared her pre- and postnatal exercise tips for other mums.
Naturally, Sia's photos and footage have been met with criticism – particularly those in which she has been lifting weights, but she had a very strong response for her critics this week.
"Don't be afraid to life weights, ladies. I used to get criticised for lifting weights during my last pregnancy, and guess what? I gave birth to a healthy 8lb 7oz baby boy!" she wrote, beside a video of herself lifting a weight during a workout.
She added: "Listen to your body and trust it. It certainly knows what it's capable of. Pregnancy is not a handicap, people. As always, talk to your doctor prior to lifting because, no, not EVERY pregnant lady in the world can lift weights. I get it!"
What do you think of Sia's videos?
SHARE if you are inspired by this fitness fanatic mum.