Balsamic, peppercorn steaks with homemade chips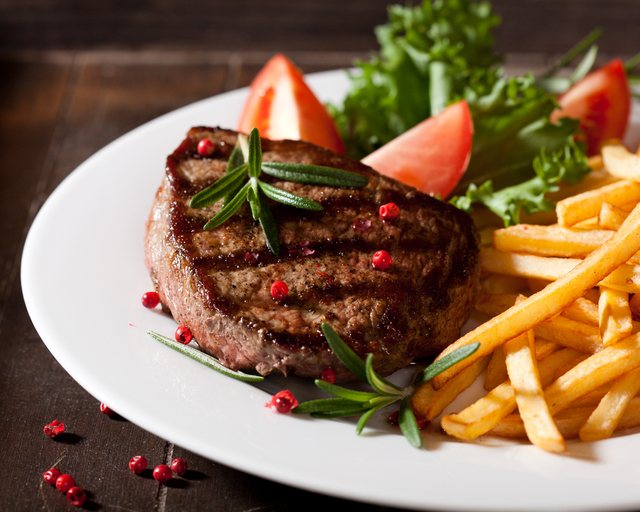 Freezing these steaks will make it simple to get a delicious meal on the table within minutes.
2 tbsp balsamic vinegar
2 tsp concentrated liquid beef stock
3 garlic cloves, finely grated
1 tbsp wholegrain mustard
1 tbsp clear honey
2 tbsp olive oil
2 tsp green peppercorns, crushed
6 sirloin steaks, about 5cm thick
Salad or peas, to serve (optional)
For the chips
1½ kg medium potatoes, sliced finely into chips
3 tbsp sunflower oil, plus extra for greasing
1 tbsp thyme leaf
In a large shallow bowl, mix together the vinegar, stock, garlic, mustard, honey and olive oil then add in the peppercorns.
Add the steaks and turn to coat. Leave to marinate in the fridge for 1 hour, or preferably overnight. Do not salt.
Preheat the oven to 200°C / 400°F / Gas mark 6.
Line 2 baking trays with greaseproof paper and set aside.
Toss the potatoes in a large bowl with the oil, thyme and peppercorns.
Spread out on 2 greased baking sheets and bake for 10-15 minutes until the potatoes are nearly cooked.
Remove from the oven and leave to go cold.
Freeze the chips unwrapped until solid, then pack them into a large container in layers, with a layer of kitchen foil in between.
Remove the steaks from the marinade reserving it in a sealed container. Individually pack the steaks into freezer bags, making sure they lie flat.
When you are ready to make this dish, remove the marinade and allow to thaw overnight.
To serve, preheat the oven to 220°C / 425°F / Gas mark 7.
Line a baking tray with greaseproof paper and place in the preheating oven.
Line a second baking tray with greaseproof paper and spread out the frozen chips.
Season with salt and bake for 20 minutes until golden and crisp.
Unwrap the steaks and pour the marinade over them.
Press them onto the hot tray baking tray and bake for 15-25 minutes, turning after 10 minutes and testing until hot, for a medium rare steak. Longer if desired.
Serve with the chips and salad or peas, if you like.
Serves
6
Preparation Time
20 minutes
Cooking Time
25 minutes
Main ingredients
Beef, Vegetables
Recipe Type
Dinner, Batch Cooking
Level of Difficulty
Easy
Use within one month of freezing.
Other recipes you may like
Trending and Sponsored