Battenberg cake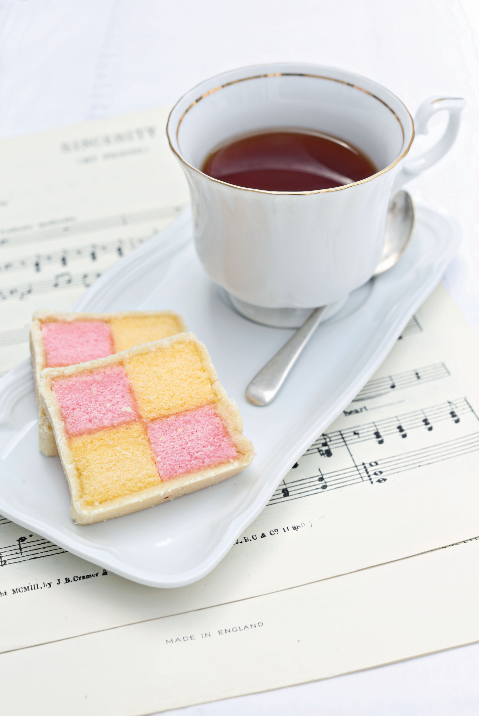 Sometimes called church window cake – for obvious reasons – this is best baked when you have some time on your hands and you can pop on some peaceful music and enjoy the process.Recipe by Beltra Guild Members, Sligo
170g margarine
140g caster sugar
3 eggs, beaten rigorously
170g self-raising flour
2–3 drops red food colouring
5–6 tbsp apricot jam
600g marzipan, ready-made
What you'll need
20cm (8in) square baking tin
Wire rack
Pastry brush
Preheat oven to 170ºC / 325ºF / Gas Mark 3. One of the biggest
challenges is to line the tin properly. Grease and line the
square tin with baking parchment. Divide the tin in half with
a strip of foil folded into a double thickness. This will allow
you to bake the two halves separately.
In a large mixing bowl, beat the margarine and sugar to
a soft cream. Gradually add the beaten eggs and flour to
the mixture, adding in a little of each alternately. Beat to a
smooth batter.
Transfer half of the batter into a second bowl, and colour
this pink with a few drops of red food colouring.
Pour the
separate batches of batter into each side of the baking tin
and bake in preheated oven for 40-50 minutes, or until a
skewer inserted into the cake comes out clean.
Turn onto
a wire rack and leave until quite cold. Cut each sponge
lengthways into two perfectly rectangular strips, trimming if
necessary to ensure equal sides.
Taking one pink and one white strip, brush one length
of each with jam loosened with a little hot water. Press
together to form the base.
Brush over with jam, top with two
more strips (the plain strip on top of the pink and vice versa)
and press together to bind.
Place a dish, or a tin with a small
weight in it, on top of the cake and leave for an hour.
Meanwhile, make the marzipan if not using shop-bought
paste. Measure the outer surface of the cake. Roll the
almond paste out on a sugared surface, aiming for a piece
large enough to cover the cake completely.
Brush the top and sides of the cake with jam and place topdown
on the paste.
Brush the final side of the cake with jam
and wrap the paste around, pressing to secure.
Pinch to seal
the join and then pinch the edges to define the shape. Cut
into slices to serve.
Serves
makes one cake
Preparation Time
15 minutes
Cooking Time
60 minutes
Main ingredients
Dairy, Flour, Eggs, Sugar
Recipe Type
Party Food, Cakes & Baking, Entertaining, Cake Stall
Level of Difficulty
Moderately Easy
If you leave the baked sponge
overnight before cutting, it will
be much easier to cut.
Other recipes you may like
Trending and Sponsored