Beetroot and Plum Purée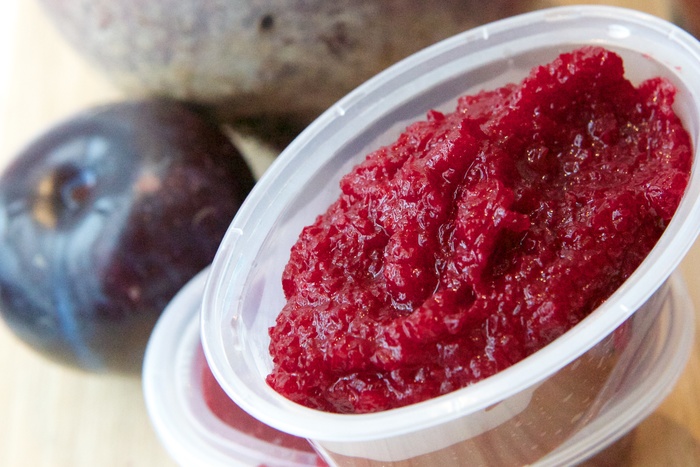 This recipe is great for stage 1 weaning, when you are still on runny purées. After you have started
with your root vegetable purée, a nice next step is to mix your vegetables with fruit to make it more
palatable. Beetroot goes really well with plum and we love the vibrant colour of this purée.
2 beetroot, peeled and diced into 1cm cubes
2 red plums, halved and stoned
Put the beetroot and plums in a small saucepan and just cover with water. Bring to the boil
over a high heat, then reduce the heat to low, cover and simmer for 10-15minutes until
beetroot is very soft.
Place the beetroot and plums in a blender or food processor and process until smooth.
Serves
Makes 4 portions
Main ingredients
Vegetables
Recipe Type
Dinner, Easy, Babyfood
Make sure to wear gloves when preparing the beetroot!
Storage and Texture
4mths+: Make runny using water from cooking or baby's milk. Store in your 1oz or 2oz Babypotz.
6-9mths: Blended with some texture. Store in your 3oz or 4oz Babypotz.
9-12mths: Minced and mashed with soft lumps. Store in your 5oz or 6oz Babypotz.
Finger food: Allow your baby to eat whole. Store in your 8oz portion pot, and heat as required.
Writer Siobhan is the owner of Mummycooks.ie, who want to inspire, educate and empower parents to feed their children healthy, home-cooked food. Her blog is a great resource for feeding your child with lots of tips and recipes.
Other recipes you may like
Trending and Sponsored