Black bean nacho pizza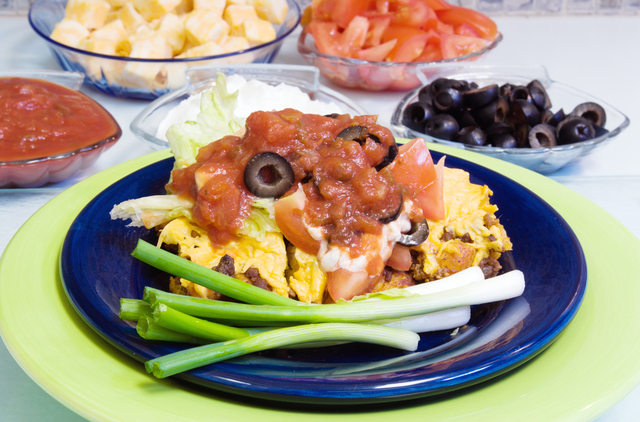 If you like Mexican and Italian food, this is one for you. A combination for fun food at the weekend all the family will love.
15 tbsp lukewarm water
14g Fast acting, dry yeast
1 tsp sugar
½ tsp salt
130g whole-wheat flour
130g all-purpose flour, plus additional for dusting
2 tbsp polenta or maize flour, plus additional for dusting
400g black beans, rinsed and drained
½ jar chopped roasted red peppers
1 medium clove garlic, sliced
1 tbsp hot chili powder
¼ tsp salt
120g white cheddar cheese, grated
2 medium plum tomatoes, chopped
4 scallions, thinly sliced
180g ripe black olives, cut into halves
2 tbsp jalapeños, roughly chopped
1 tbsp olive oil
To prepare dough: Stir water, yeast, sugar and salt in a large bowl; let stand until the yeast has dissolved, about 5 minutes.
Stir in whole-wheat flour, all-purpose flour and polenta or maize flour (depending what is being used) until the dough begins to come together.
Turn the dough out onto a lightly floured surface. Knead the dough until it becomes smooth and elastic, about 10 minutes.
Place the dough in an oiled bowl and coat with the olive oil. Cover with a clean kitchen towel and set aside until it has doubled in size, about 1 hour.
Preheat the oven to 160°C / 325°F / Gas mark 3.
Line a large baking tray with greaseproof paper and set aside.
Turn the dough out onto a clean, lightly floured surface. Dust the top with flour; press into the dough with your fingers to flatten out.
Use a rolling pin to roll the dough into the thickness desired.
Place beans, peppers, garlic, chili powder and salt in a food processor and whizz until smooth.
Sprinkle maize or polenta flour onto the large baking sheet.
Transfer the dough onto the baking tray.
Place the baking tray with the rolled out dough, into the oven until lightly browned, roughly 3 to 4 minutes.
Using a large spatula, flip the cooked pizza dough.
Spread the bean mixture on the crust, leaving a 1-inch border.
Layer on the cheese, tomatoes, scallions, olives and jalapeños.
Return to the oven until the cheese has melted and the bottom of the crust has browned, about 8 minutes.
Slice into pizza slices and serve.
Main ingredients
Flour, Beans, Cheese, Vegetables
Recipe Type
Party Food, Family Dinners, Healthy
Level of Difficulty
Easy
Other recipes you may like
Trending and Sponsored