Boiled Egg and Avocado Toast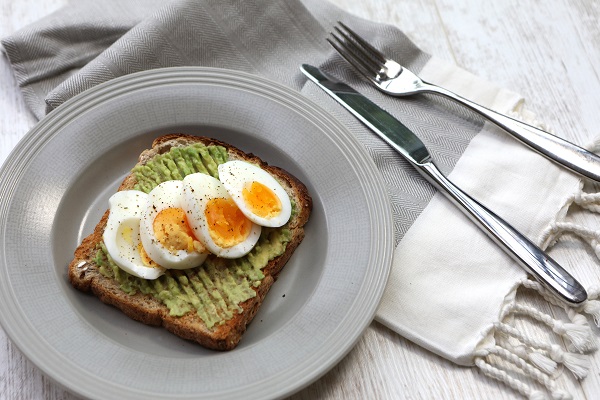 This boiled egg recipe is a quick and fuelling breakfast that the entire family will enjoy.
Just cut in to slices to make a perfect baby-led finger food for your weaning baby.
This egg recipe also makes for a great midday feed for baby.
4 eggs
1 avocado, smashed
4 slice wholemeal bread
1 litre water
Place a pot over medium heat and add the water. Bring to the boil.
Carefully add the eggs to the water, using a slotted spoon if needed.
Allow to boil for 3 minutes, to ensure they are cooked through and safe for your baby to eat.
While cooking, pop the bread in the toaster.
Remove the eggs from the water using a slotted spoon. Peel the shell and allow to cool for 2 minutes.
Once cooled slightly, slice the egg.
Spread the avocado on the toast and top with the sliced egg. Alternatively, mash the avocado separate to serve as a dip.
Cut into slices and serve warm for the perfect breakfast finger food.
Serves
4
Main ingredients
Eggs, Vegetables, Bread
Recipe Type
Babyfood, Breakfast
Weaning:
This recipe is perfect for weaning babies 6 months+, or at stages 2+ of their weaning journey.

Slice the toast with smashed egg into fingers and serve with mashed avocado as a dip for Baby, to have a hands-on feeding experience.
Best consumed fresh and warm, and not recommended to store or freeze eggs after cooking.
Other recipes you may like
Trending and Sponsored