Bounty Bar biscuits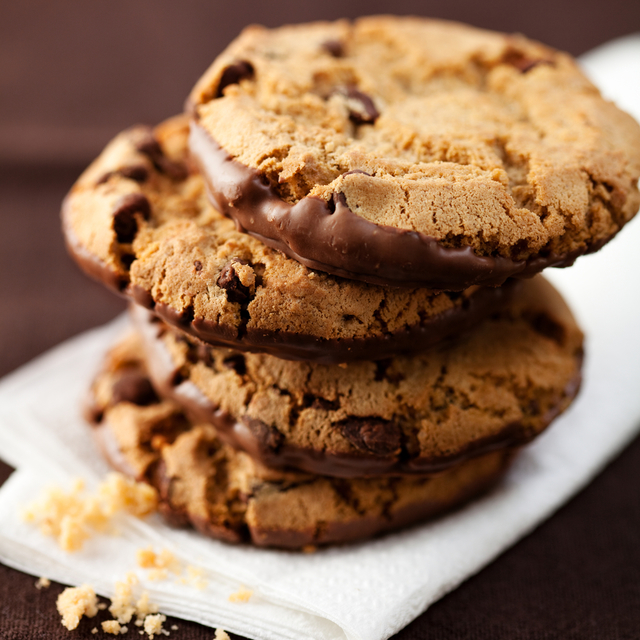 Soft, chewy, and stuffed with Bounty Bars, what could be more satisfying?
280g self-raising flour
1 tsp baking soda
1 ½ tsp corn flour
½ tsp salt
170g unsalted butter, melted
150g light brown sugar, loosely packed
100g granulated sugar
1 large egg + 1 egg yolk
2 tsp vanilla extract
10 mini Bounty Bars, chopped
Topping
60g dark chocolate chips (or pure chocolate, or semi-sweet chocolate chips)
¼ tsp vegetable oil
Toss together the flour, baking soda, corn flour and salt in a large bowl. Set aside.
In a medium size bowl, whisk the melted butter, brown sugar, and white sugar together until no sugar lumps remain.
Whisk in the egg, then the egg yolk. Finally, whisk in the vanilla.
Pour the wet ingredients in with the dry and mix together with a large spoon or spatula.
The dough will be very soft.
Cover the dough and chill for 2 hours or over-night.
Take the dough out of the refrigerator and allow it to slightly soften at room temperature for 10 minutes.
Preheat the oven to 160°C / 325°F / Gas mark 3.
Line two large baking tray with greaseproof paper and set aside.
Roll the dough into balls, about 3 tablespoons each.
Roll the cookie dough balls to be higher rather than wide, to ensure the cookies will bake up to be thick.
Put 8 balls of dough onto prepared tray and bake 11-12 minutes. The cookies will look very soft and under-baked when you remove from the oven. They will continue to cook on the baking tray as they cool.
Keep them on the baking tray for at least 10 minutes before transferring to a wire rack.
Melt the dark chocolate chips and vegetable oil in a small bowl in the microwave.
Dip each cookie into the chocolate to coat half of the cookie and serve with a large glass of milk for messy dunking.
Serves
Makes 15
Preparation Time
15 minutes
Cooking Time
30 minutes
Main ingredients
Dairy, Flour, Chocolate, Fruit, Eggs, Sugar, Oil
Recipe Type
Cookies & Biscuits, Left Overs
Level of Difficulty
Moderately Easy
Cookies stay soft and fresh for 7 whole days at room temperature. Cookies may be frozen up to 3 months. Rolled cookie dough may be frozen up to three months and baked in their frozen state for 12 minutes.
Other recipes you may like
Trending and Sponsored