Broccoli and cheddar soup with cheddar scones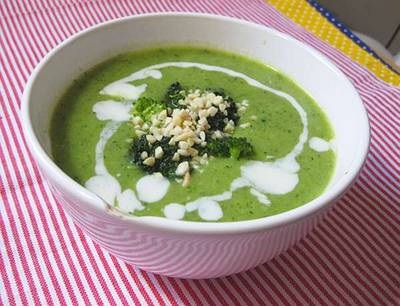 Is your style more in line with a sophisticated five course meal? These hearty Broccoli and Cathedral City Cheddar Soup with Cheddar Scones will perfectly kick off your meal and warm your soul on even the coldest of days. The dish can also easily be tailored to a canapés option by serving in either espresso cups or shot glasses – or keep it simple as a one-course winter's lunch by the fire.
50 g butter
2 tbsp oil
1 onion peeled and chopped
2 potatoes peeled and chopped
1 litre chicken stock
250g broccoli (cut nice and small)
150g grated Cathedral City Cheese
Blanched slivered almonds
Greek style yoghurt to serve.
For the scones:
450g plain white flour
1 tsp salt
1 tsp bread soda
350- 400 ml butter milk
110g grated Cathedral City cheddar cheese
Egg wash
For the soup:
Soften the butter in the oil. Add the onions, season with salt and pepper and gently cook without browning for approx 10 mins. Add the potato cubes and chicken stock, bring to the boil and simmer for 15 mins or until the potatoes are cooked. Add the broccoli and cook for 5 mins). Add the cheddar and puree the soup. The heat of the soup will melt the cheese as you puree it. Check the seasoning and adjust if required.
For the scones:
Preheat the oven to 230 degrees. Sieve the dry ingredients. Make a well in the centre, pour most of the milk in at once using one hand mix the flour from the sides of the bowl, add more milk if required (the trick with light fluffy scones is to work the dough as LITTLE as possible). The dough should be softish, not too wet and sticky. When it all comes together, turn it out onto a well flowered work surface. Clean and dry your hands at this point. Tidy it up and flip over gently. Gently pat the dough to approx 1 ½ inches depth and cut into scones using cutters or a knife. Brush the top of each scone with egg wash and then dip into the grated cheddar cheese and cook of approx 20 mins.
To serve:
Just before your scones are ready to come out of the oven, reheat your soup. Ladle into a warm soup bowl and top with a dollop of Greek style yoghurt and toasted almonds, accompany with your freshly baked scones and enjoy.
This recipe is brough to you by Cathedral City Cheddar
Main ingredients
Cheese, Vegetables
Recipe Type
Soups, Starters, Entertaining
Level of Difficulty
Easy
To serve as a canapé serve you reheated soup in either espresso cups or shot glasses also reduce the size of your scones and serve on the side of the espresso saucer.
Other recipes you may like
Trending and Sponsored