Chickpea Veggie Rolls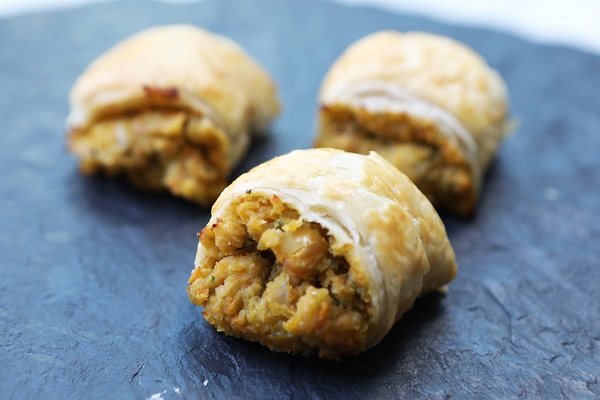 Our chickpea rolls are a great vegetarian alternative to traditional sausage rolls.
Packed full of delicious chickpeas and veggies, this healthy treat is perfect for little fingers, ideal for lunchboxes and makes a healthy snack on-the-go.
1 tin chickpeas
1 courgette, grated
1 carrot, grated
1 clove garlic, crushed
½ onion
1 tbsp. oregano (optional)
1 packet puff pastry
1 egg , beaten
Preheat the oven to 180 C. Line a baking tray with grease-proof paper. Remove the pastry from the freezer, and set aside.
Add chickpeas, grated veg, onion and garlic to a food processor, and blitz for 30-40 seconds.
Transfer to a large bowl, and cover. Place in the fridge for 15 minutes to set.
Meanwhile, roll out the pastry and cut down the middle into two long rectangular strips.
Spread half the chickpea mix into a sausage shape over one half of the pastry. Roll the pastry over on itself. Using a fork, pinch the corners together to seal.*
Brush with the beaten egg and cut each roll into eight pieces. Transfer to the lined tray and bake for 20-30 minutes until golden, crispy and cooked through. Serve warm.
*If freezing, cut each roll into 8 mini rolls and place in the freezer here.
Main ingredients
Eggs, Vegetables, Garlic, Pastry
Recipe Type
Party Food, Kids Food, Lunch Box, Snacks
Storage and Serving:
This recipe is perfect for weaning babies from 6 months on. Offer 1-2 rolls as a finger food with some
Easy Tomato Sauce
for dipping, for the perfect family-friendly, baby-led weaning treat!
Label and date to freeze for up to 3 months, for a quick-fix finger food any day of the week.
Other recipes you may like
Trending and Sponsored