Cinnamon Pancakes with HB Caramel Cinnamon Waffle Ice cream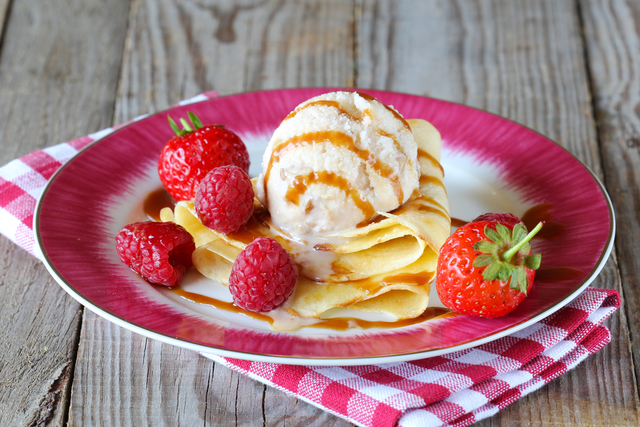 Spiced pancakes with their ice cream soul mate - this is a real treat.
4 tbsp unsalted butter, melted (for cinnamon filling)
50g plus 2 tbsp packed light brown sugar (for cinnamon filling)
1/2 tbsp ground cinnamon
110g self raising flour
2 tsp baking powder
1/2 tsp salt
235ml milk
1 large egg, lightly beaten
1 tsp vegetable oil
HB Caramel Cinnamon Waffle Ice Cream
Caramel sauce, (optional)
Fresh mixed berries, for garnish
In a medium bowl, stir together the butter, brown sugar and cinnamon.
Scoop the filling into a large sealable storage bag. Set aside at room temperature.
Using a medium bowl, whisk together the flour, baking powder and salt.
Whisk in the milk, egg and oil until the batter is combined.
Take care not to over-mix; if there are a few lumps, that is alright.
Heat a large griddle pan over a medium heat.
Use kitchen paper dipped in a little vegetable oil to grease the griddle pan.
Ladle the batter in the pan for the pancakes and reduce the heat to medium-low.
Open the sealable bag containing the cinnamon filling, and if necessary, re-mix by massaging in any butter that has separated.
Reseal, then snip the corner of the bag.
Start piping cinnamon filling onto the top of each pancake, starting from the centre and swirling outward.
Cook the pancakes until bubbles begin to appear and burst on top of the pancake, and the underside is golden brown.
This should take 3 to 4 minutes.
Slide a thin spatula underneath the pancake and gently (but quickly) flip it over. Cook until the other side is golden.
Serve the pancakes with HB Caramel Cinnamon Waffle Ice Cream and a little caramel sauce and fresh berries if you like.
Serves
4
Preparation Time
25 minutes
Cooking Time
10 minutes
Main ingredients
Dairy, Flour, Fruit, Eggs, Sugar, Ice Cream, Spice
Recipe Type
Dessert
Level of Difficulty
Easy
Other recipes you may like
Trending and Sponsored