Colourful coconut truffles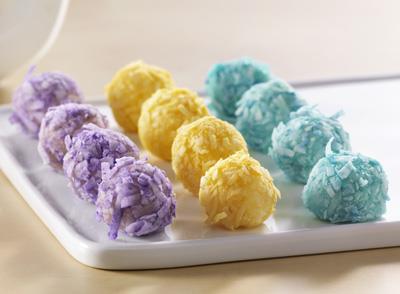 These delightful truffles are made with Madeira cake, fruits and desiccated coconut, ideal for making with the kids.
85g ready-to-eat dried apricots, finely chopped
25g desiccated coconut
125ml light condensed milk
To decorate
140g desiccated coconut
Different food colourings, as desired
Line 2 baking trays with greaseproof paper and set aside.
In a large mixing bowl, crumble the cake with your fingers.
Tip in the apricots and coconut and using your hands again, mix together with the cake crumbs.
Use a wooden spoon to stir in the condensed milk.
Gather everything together with your hands until it is well mixed and all of the cake crumbs are sticky.
Roll the sticky cake mixture into small balls and line them up on the trays, then put them in the fridge to set.
Decide on how many different food colourings you are going to use, then split the coconut into the same number of piles.
Put each pile of coconut into a sealable plastic bag, add a few drops of food colouring to each to achieve the colour desired, and seal the bags.
Shake the bags and scrunch between your fingers until all the coconut is combined with the food colouring.
Open all of the bags of coloured coconut and take the truffles out of the fridge.
Put 1 tablespoon of water in a small bowl and lightly coat each truffle in so the coconut will stick. Use gloves for this step to avoid the food colouring staining your hands.
One by one, drop each truffle into one of your bags.
Shake it and roll it around until the outside is covered in coconut.
Put each truffle onto the trays and chill for another 2 hours until they are really cold and firm.
If you like, put some of the truffles in gift bags or boxes and tie with ribbons to give as presents.
Serves
Makes 20
Preparation Time
45 minutes
Main ingredients
Dairy, Flour, Fruit, Eggs, Sugar
Recipe Type
Party Food, Dessert, Kids Food, Gifts
Level of Difficulty
Easy
Other recipes you may like
Trending and Sponsored