Delicious cocktail koftas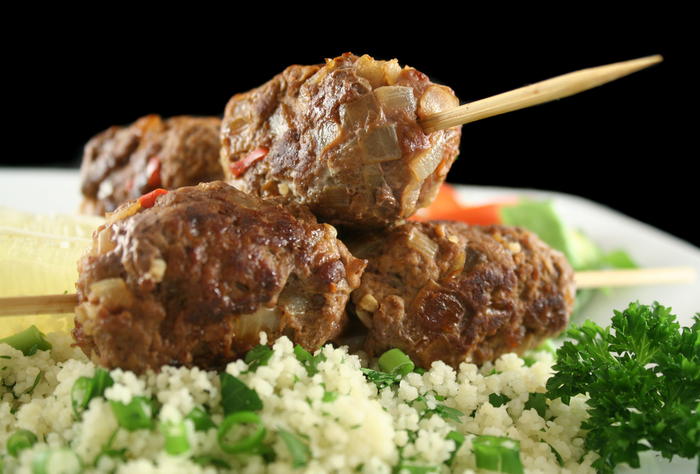 450g minced lamb
1/2 tsp salt
1 tsp ground cumin
1 tsp ground coriander
1/4 tsp garam masala
1/4 tsp cayenne pepper
2 tbsp fresh, green coriander, very finely chopped
3 tbsp natural yogurt
For the sauce
5 cloves garlic, peeled
2.5cm cube ginger, peeled and coarsely chopped
4 tbsp water, plus 300ml
1 tsp ground cumin
1 tsp ground coriander
1 tsp bright red paprika
1/4 tsp cayenne pepper
5 tbsp vegetable oil
2.5 cm cinnamon sticks
6 cardamom pods
6 cloves
100g onions, peeled and finely chopped
100g tomatoes, peeled and chopped (or a small can of tomatoes)
4 tbsp natural yogurt
1/2 tsp salt
Making the meatballs: In a bowl, mix together the lamb, yogurt, salt, pepper, spices and coriander. Wet your hands then shape the mixture into 30 balls.
Making the sauce: Process the garlic, ginger and 4 tablespoons of water in a food processor or a blender until they turn into a paste. Tip in a bowl then stir in the cumin, coriander, paprika and cayenne.
Making the sauce: Heat the oil in a heavy pan (23 to 25cm wide) or a frying pan over medium-high heat. Throw in the cinnamon, cardamom pods and cloves and stir for about 3 or 4 seconds. Add the onions and fry until reddish brown. Lower the heat to medium then mix in the spicy paste and the chopped tomatoes. Fry until brown. Stir in the yogurt one tablespoon at a time and cook until incorporated. Stir in 300ml of water and the salt then bring to an almost boil.
Add the meatballs. Put a lid on, only leaving a slight opening. Set the heat on low then cook for about 25 minutes. Gently stir once every 5 minutes. Make sure the sauce is not sticking, if so add about one tablespoon of water. Take off the lid and heat up to medium-low. Cook until the meatballs have browned, stirring from time to time.
Remove the meatballs from the pan. Stick a toothpick in each kofta and serve with drinks.
Serves
Makes 30
Preparation Time
45 minutes
Cooking Time
30 minutes
Main ingredients
Vegetables, Lamb
Recipe Type
Easy, Entertaining, Family Dinners, Healthy, Snacks, Tapas
Cuisine
Indian
Level of Difficulty
Easy
Other recipes you may like
Trending and Sponsored