Granola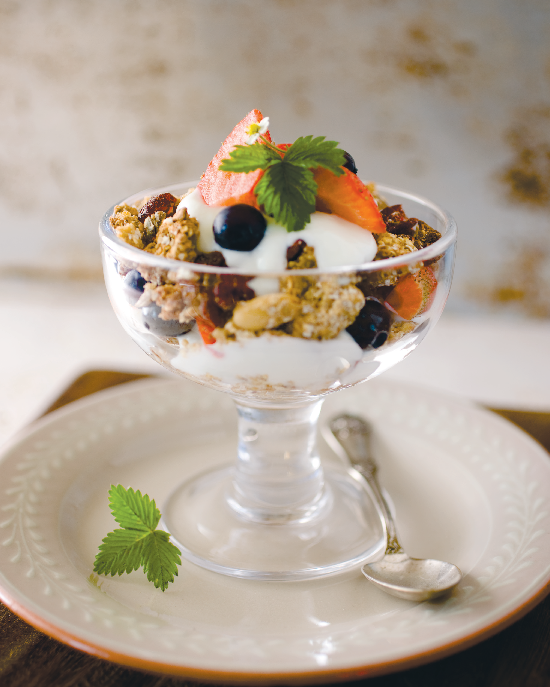 Busy mums find this no added sugar breakfast keeps them brimming
with energy right up until lunch!
700g oats,
50g sultanas
100g dried apricots
1 tsp vanilla extract
1/2 tbsp mixed spices
1 tbsp ground cinnamon
50g whole linseeds / flaxseeds
50g oat bran
50g hazelnuts
50g pumpkin seeds
50g sunflower seeds
50g almonds, whole, flaked or
ground
2 tbsp rapeseed oil
150ml honey
200ml unsweetened apple juice
50g dried cranberries
Preheat the oven to Gas 3/ 160°C/
325°F.
Mix the oil with the apple juice and
honey in a large pan and simmer
for a few minutes to combine.
In a separate bowl mix all of the dry
ingredients together, except for
the dried fruits.
Stir the dry ingredients into the
wet mixture.
Squeeze the wet mixture together
with your hands, to form small
clusters, before spreading out on
to two large baking trays that have
been lined with parchment paper.
Bake for 45 minutes, turning and
breaking up the cereal every 10
minutes or so.
Stir in the dried fruits and bake for
a further 15 minutes.
Cool, then store in an airtight
container for up to 2 weeks.
Serve with natural yoghurt,
blueberries and raspberries.
Serves
40 servings
Main ingredients
Fruit
Recipe Type
Easy, Healthy, Snacks, Breakfast, Low Calorie
Special Info
Pregnant Mums
Level of Difficulty
Easy
It is important to allow for
the full baking time as a shorter
time may result in the granola
being too moist, therefore going
off within a few days of storage.
Other recipes you may like
Trending and Sponsored