HB Hazelbrook Farm, Ice cream log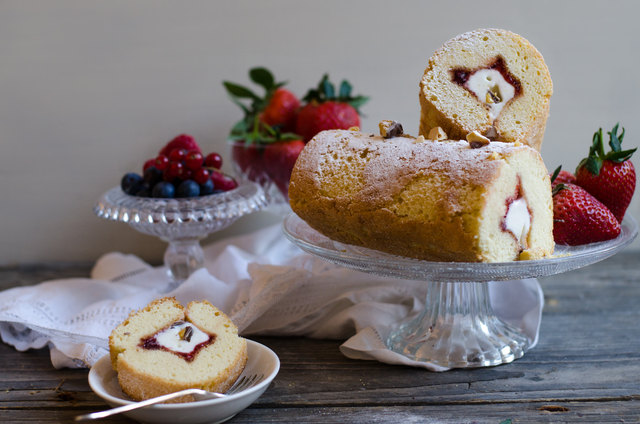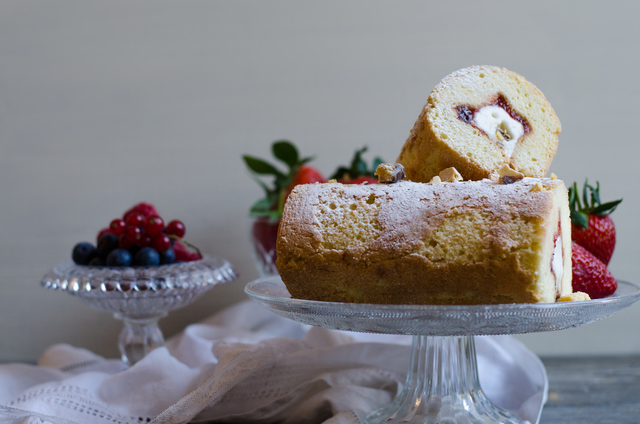 This is a blast from past, made with delicious HB Hazelbrook Farm ice cream and a delicious sponge.
For the sponge:
3 large free-range eggs
125g golden caster sugar, plus extra for sprinkling
125g plain flour
A few knobs of butter, for greasing
For the filling:
1 ltr HB Hazelbrook Farm Vanilla ice cream
200g strawberry or raspberry jam
37g honeycomb chocolate covered sweets, crushed (optional)
To serve:
200g fresh berries of choice
Preheat the oven to 180°C / 350°F / Gas mark 4.
Grease a baking tray and line with greaseproof paper.
Remove the ice cream from the freezer and allow to soften for 5 minutes.
Crack the eggs into a mixing bowl, add the sugar and whisk until pale, light and fluffy. The mixture should have doubled in size. Sift in the flour and slowly fold through with a spatula. Spoon the sponge mixture on to the prepared tray and bake for 12 to 15 minutes on the middle shelf, or until cooked through.
On the kitchen counter, lay out a sheet of greaseproof paper and sprinkle with a few pinches of sugar. Take the sponge out of the oven and flip it over on to the paper. Peel away the lining greaseproof paper from the cooked sponge. Then, while the sponge is still warm and flexible, roll it up loosely into a sausage, incorporating the paper from the tray. Allow to cool for around 20 minutes.
Once cooled, gently unroll the sponge and spread with half of the jam. Using a large dessert spoon, distribute the HB Hazelbrook Farm Vanilla ice cream over the sponge, leaving the last 5 or 6cm at one end free of filling.
Dollop teaspoons of the remaining jam over the ice cream and then sprinkle on the crushed honeycomb covered sweets, if using. Use a spatula to smear everything into a fairly smooth layer.
Roll the sponge up again, pulling the paper away carefully as you roll. If the filling starts to slip out, don't worry, just push it back in. Twist and squeeze the sponge log as you roll to secure the mixture inside.
Freeze for at least 3 hours, taking it out of the freezer 5 to 10 minutes before serving. Serve with fresh berries if desired.
Serves
12
Preparation Time
10 minutes
Cooking Time
15 minutes
Main ingredients
Ice Cream
Recipe Type
Dessert
Each serving contains:

Energy

Fat

Saturates

Sugars

Salt

913kJ/ 218kcal

5.7g

3.6g

31.1g

0.1g

11%*

8%*

18%*

35%*

2%*

*% of Reference Intake of an average adult (8400kJ/2000kcal)
Other recipes you may like
Trending and Sponsored