Homemade chicken fingers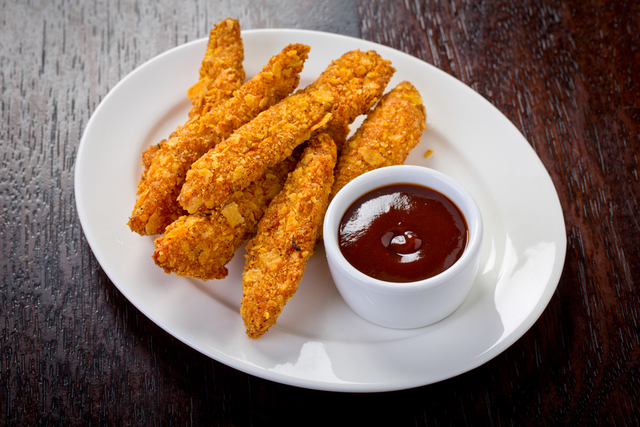 A big favourite amongst the kids, this one doesn't have to be made of ingredients we aren't sure about and is far tastier than what you would buy in fast food places or frozen food section.
1 tbsp olive oil
1 onion, finely chopped
400g can chopped tomatoes
3 garlic cloves, finely chopped
85g brown sugar
3 tbsp malt vinegar
2 tbsp Worcestershire sauce
1 tbsp tomato purée
2 tbsp Dijon mustard
2 tbsp honey
4 chicken breasts sliced thinly
130g all-purpose flour
½ tsp salt
½ tsp freshly ground pepper
2 large eggs
180g dried, pre-made bread crumbs
Olive oil cooking spray
Preheat the oven to 200°C / 400°F / Gas mark 6.
Line a baking tray with greaseproof paper and set aside.
To make the breadcrumbs, simply add add 2-3 slices of bread into your food processor and whizz up.
Pour into a large dish and set aside.
Prepare the homemade BBQ sauce.
Homemade BBQ sauce: Heat the oil in a saucepan and add the onion.
Cook over a gentle heat for 4-5 minutes, until softened.
Add the tomatoes,garlic, sugar, Worcestershire sauce, tomatoe puree.
Season with salt and pepper and mix.
Bring to the boil, then reduce the heat and simmer for 20-30 minutes, until thickened.
For a smooth sauce, simply whizz the mixture in a food processor.
Combine the barbecue sauce, mustard and honey in a large bowl.
Set aside half of the sauce in a small bowl.
Add the chicken breasts into the large bowl with the barbeque sauce, mustard and honey and stir well.
Marinate in the refrigerator for 30 minutes to 1 hour.
Combine the flour, salt and pepper in a shallow dish.
Lightly beat the eggs in a bowl.
Coat each chicken slice in flour, then in egg shaking of any excess off.
Then roll in the breadcrumbs and place the chicken slices on the prepared baking tray.
Generously coat both sides of each chicken slice with cooking spray.
Bake for 10 minutes.
Turn each chicken slice over and continue baking until the outside is crisp and they are cooked through.
Serve with homemade sauce you have set aside.
The homemade BBQ sauce stores well in the refrigerator and the chicken 'fingers' can be frozen once coated with the egg and flour mixtures, though not cooked for a later date.
Main ingredients
Flour, Eggs, Chicken
Recipe Type
Party Food, Kids Food, Lunch Box, Snacks
Level of Difficulty
Easy
Other recipes you may like
Trending and Sponsored