Lemongrass, coconut and sweet potato soup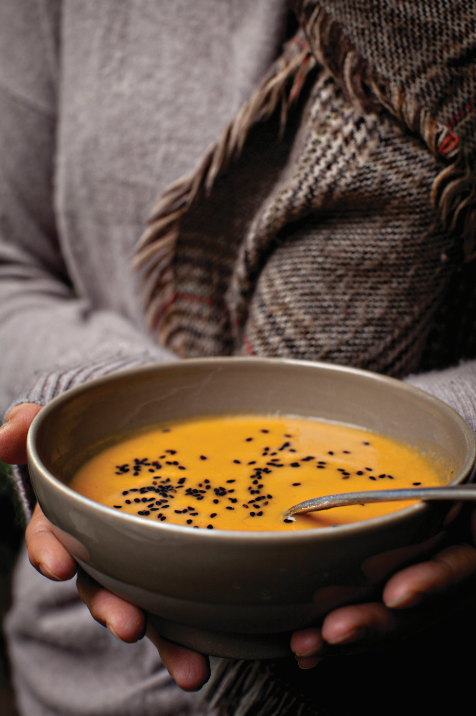 Lemongrass is the easiest of exotic Asian herbs to deal with in a Western kitchen. I tend to have problems pronouncing the others, let alone soliciting them into a pan. Lemongrass is widely available in supermarkets now, which either means we are becoming more courageous behind the apron or more mournful of our carefree days backpacking around Thailand.
Good blob of extra virgin
Coconut oil
2 sweet potatoes, peeled and diced
1 onion, diced
3 garlic cloves, chopped
1–2 lemongrass stalks
2 cups vegetable stock or water
1 x 400g can organic coconut milk
Pinch of cayenne (optional)
Squeeze of lime juice
Handful of fresh coriander leaves, torn
Tamari, to serve
Gently warm a dollop of extra virgin coconut oil in a sauté pan. Add the sweet potatoes, onions
and garlic and leave to sweat quietly while you prepare the remaining ingredients. This process
sweetens the veg naturally as long as you don't brown them.
Bash the fat, fibrous end of the lemongrass stalks with the base of a saucepan or heavy object. Of
course, a pestle and mortar would be perfect, but not as cathartic as a flying saucepan after a long
day in the office.
Add the smashed stalks to the sweet potatoes and onions along with the stock
and coconut milk.
Bring to a simmer and cook for 10 minutes, until soft.
Remove the lemongrass and discard.
Purée the soup with a handheld blender until delectably smooth. Tickle with cayenne to give delicious heat and a splash of lime for a sharp kick.
Finally, dazzle with the torn coriander, a splash of tamari and your holiday photo album.
Guaranteed to transport you straight back to the coconut-lined beaches of Koh Samui.
Serves
4
Preparation Time
15 minutes
Cooking Time
10 minutes
Main ingredients
Vegetables
Recipe Type
Soups
Level of Difficulty
Easy
Organic coconut milk is best, otherwise the milk can be hijacked with all sorts of preservatives and stabilisers. If you think this is just claptrap, I urge you to buy both and compare. You'll notice a trippy purple hue in many non-organic milks.
Other recipes you may like
Trending and Sponsored