Mac & Chz muffins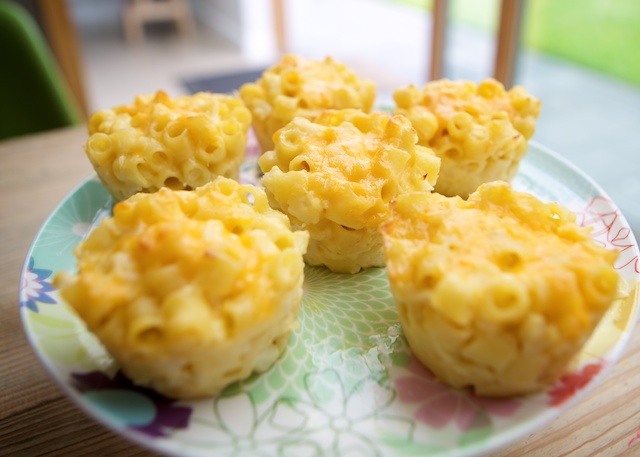 Siobhan Berry, owner of
Mummycooks.ie
, shares a recipe for Mac & Chz Muffins. These Macaroni and Cheese Muffins are a delicious finger food for your baby to enjoy or a great addition to a child's lunch box.
2 1/2 cups of dried macaroni
1 small head of cauliflower
1 1/2 cups of milk
3 cups of grated cheddar cheese
3 tbsp butter
3 tbsp flour
Roughly chop the cauliflower into small pieces, to resemble the macaroni.
Boil a large pot of water, add the macaroni and the cauliflower, and simmer for 6-8 minutes, until the macaroni is cooked to your liking.
Strain off and allow to cool slightly while you prepare the cheese sauce.
In a small saucepan, melt the butter. Stir in the flour until it forms a paste.
Gradually whisk in the milk, ensuring you are not left with any lumps of flour.
Bring the mixture to the boil, remove from the heat and stir in 2 cups of the cheese.
Stir the sauce into the macaroni and cauliflower mix.
Preheat your oven to 190 degrees.
Place the mix into muffin/cupcake tins and scatter the remaining cheese over the top.
Bake for 20 minutes, remove from the oven, and allow to cool before removing from the cases.
Main ingredients
Cheese, Vegetables
Recipe Type
Lunch Box, Snacks, Babyfood
Storage:
4 - 6 months: Not suitable
Writer Siobhan is the owner of Mummycooks.ie, who want to inspire, educate and empower parents to feed their children healthy, home-cooked food. Her blog is a great resource for feeding your child with lots of tips and recipes.
Other recipes you may like
Trending and Sponsored