Mini vegetable quiches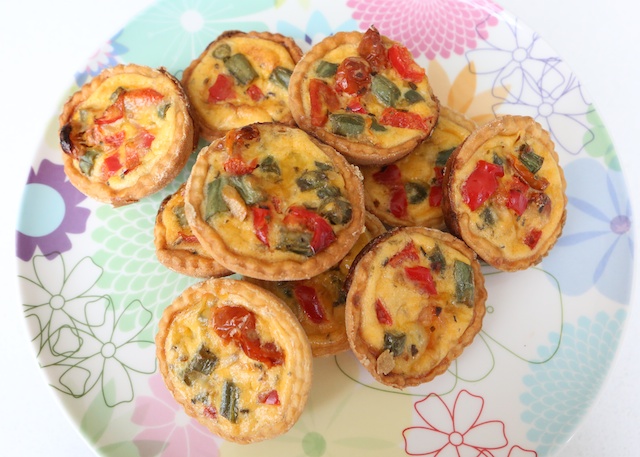 Siobhan Berry's mini quiches are
perfect as both a finger food for your weaning baby or a delicious lunch box filler for older children.
175g flour
75g Butter
2 eggs
125g crème fraiche
1 clove of garlic, crushed
½ red pepper, finely diced
6 green beans, finely diced
Small handful of sundried tomatoes
2 tsp oregano
Olive oil
To make the pastry, sift the flour into a large bowl and rub in the butter until you have a soft texture.
Add small dashes (about 1 tbsp at a time) of cold water until you have a firm dough.
Roll into a ball, cover with cling film, and place in the fridge for 30 minutes.
Preheat the oven to 190 degrees.
Roll the pastry out onto a floured surface.
Oil your cupcake tin, and then dust with flour.
Cut out the pastry and line the cupcake cases with the pastry, then place a small amount of grease-proof paper in each and fill with baking beans. (If you don't have baking beans, raw rice or lentils also work well).
Bake for 10 minutes, remove the beans, and bake for a further five minutes. Remove the quiches from the oven and reduce the temperature to 180 degrees.
To make the filling, gather your vegetables and sauté in olive oil with the oregano and garlic for three to four minutes.
Beat the eggs and crème fraiche together and stir in the vegetables. Spoon the filling into the pastry cases and bake for 20-25 minutes or until the quiches are set and golden.
Main ingredients
Vegetables, Pastry
Recipe Type
Dinner, Lunch Box
For more family friendly meals and information about how to feed your family healthy home cooked meals visit www.mummycooks.ie.
Other recipes you may like
Trending and Sponsored