Mint macarons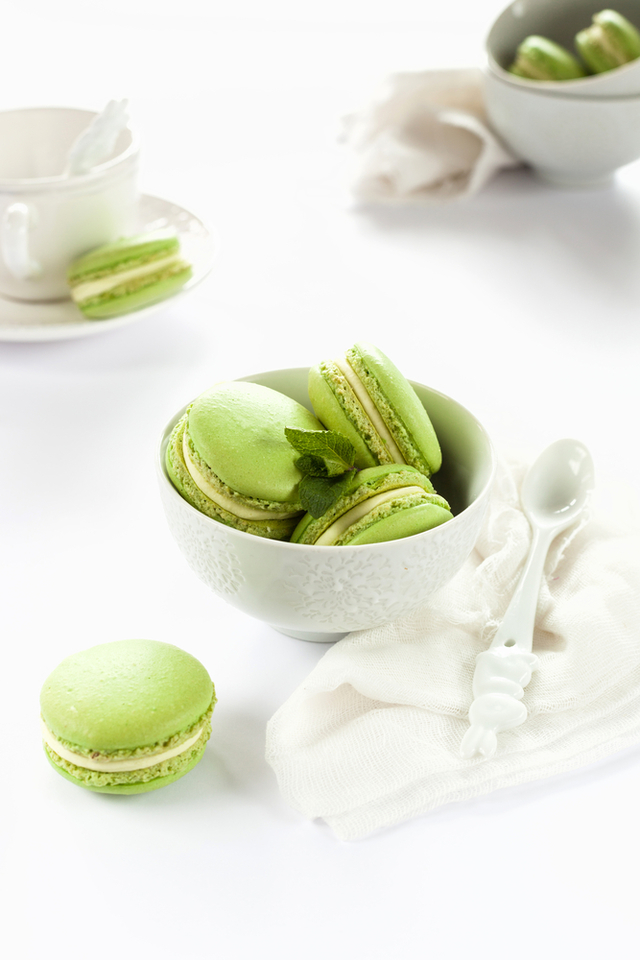 These French mint macarons have a delicious minty flavour and a delicate texture.
100g icing sugar
65g almond flour
2 eggs whites
15g caster sugar
1 tsp mint extract (½ for the shell and ½ for the filling)
Green food colouring
65g white chocolate
50ml thick cream
Preheat the oven to 150°C/ 300°F/ Gas mark 2. Line 2 baking trays with parchment paper
In a large bowl, combine the icing sugar with the flour.
In a food processor, whisk the eggs until foamy and then slowly add the caster sugar.
Add the icing sugar mix and half tsp mint extract into the egg mix and process until well blended. Add a tiny drop of the green food colouring (about a 1/4 tsp) and mix well.
If you have a piping bag, spoon the mixture into it and pipe out 20 2inch rounds onto the parchment paper. If not, you can use a tablespoon.
Simply tap the ends of the tray to smooth out the circles.
Leave to sit for 25 minutes before placing in the oven for 30 minutes. Leave to cool on a wire rack.
While the shells are cooling, you can make the filling.
Simply melt the white chocolate in the microwave for 30 seconds on high. Make sure it doesn't burn.
Combine the chocolate with the cream and the rest of the mint extract. Whisk until it is thick.
Spread a small dollop of cream over half the macaron shells and sandwich together.
Leave to cool before serving.
Serves
10
Preparation Time
30 minutes
Cooking Time
30 minutes
Main ingredients
Chocolate, Eggs, Sugar
Recipe Type
Cakes & Baking, Cake Stall
Cuisine
French
Level of Difficulty
Moderately Easy
Other recipes you may like
Trending and Sponsored