Puffed Rice Doughnut Cake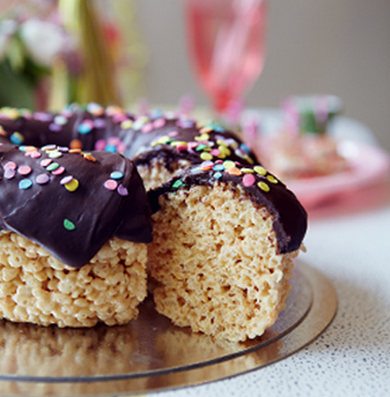 This fun cake would be perfect for a kid's birthday party.
Oil spray
80g unsalted butter
300g marshmallows
225g puffed rice
350g icing sugar
1 - 2 tbsp boiling water
1 tbsp cocoa powder
Hundreds and thousands to decorate
You will need a Big Top Donut silicone baking tin or similar mould
Spray the inside of each of the moulds lightly with the oil spray.
Melt together the butter and marshmallows. To use the hob, melt the butter in a large pan over a low heat. Add the marshmallows and stir until they have also fully melted. To use a microwave, melt the butter in a heatproof bowl for 5 – 10 seconds. Stir then repeat until melted. Add the marshmallows to the bowl and microwave again for about 1 – 2 minutes, until the marshmallows are soft and liquid.
Add the puffed rice to the marshmallow mixture and fold through with a wooden spoon until everything is combined.
Divide this mixture evenly between the two moulds. Gently press the mixture into the moulds until the surfaces are even, using a piece of greaseproof paper to avoid getting your hands stuck to it.
Place one half of the mould on top of the other and pres down gently. Leave to set in the mould for at least an hour or until the mixture hardens. You can speed up the process by putting it into the refrigerator.
Remove the cake from the mould (it should come out easily) and prepare the icing. Beat the icing sugar, water and cocoa powder together with an electric hand beater until smooth. Spoon over the doughnut, allowing the icing to drip down the sides. Sprinkle with hundreds and thousands or decorate with sweets.
Serves
12 - 15
Preparation Time
90 minutes
Main ingredients
Sugar
Recipe Type
Party Food, Cakes & Baking, Dessert, Easy
Level of Difficulty
Easy
Other recipes you may like
Trending and Sponsored