Roasted vegetable pasta bake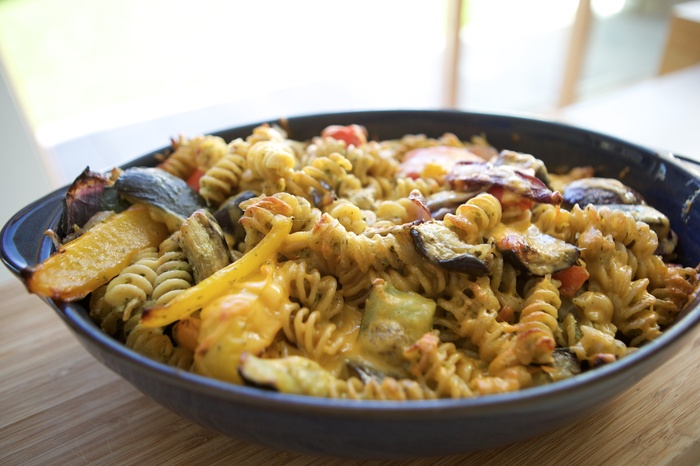 A delicious and healthy meal for all the family to enjoy
2 large red onions
1 large aubergine
2 large courgettes
2 red and orange pepper, deseeded and sliced
4 tbsp olive oil
4 tbsp pesto
250ml crème fraiche
Black pepper, f reshly ground
500g pasta, cooked (I use wholegrain pasta)
150g-cheddar cheese, grated
Chop all the vegetables and preheat the oven to 190C.
On a roasting dish, toss the vegetables in a drizzle of olive oil, and roast in the oven for 40 minutes until cooked and golden at the edges.
Meanwhile, bring a large pot of salted water to the boil. Add the pasta and cook for about six minutes. Since you will be cooking the pasta for a second time in the oven, you want to make sure the inside is still hard.
Put the pesto and crème fraiche into a saucepan, season with ground black pepper, then heat gently for two minutes, stirring.
Mix the pasta and vegetables into the sauce. Spoon the mixture into ovenproof dish, and sprinkle with cheese.
At this stage, I divide in two using one portion straight away; the second portion, I freeze.
To freeze: Cool completely. Cover and freeze. Allow to thaw in the fridge overnight. Preheat oven to 190C. Cook for 20 minutes, until piping hot
To serve straight away: Cook in the oven for 15 minutes at 190C, and place in the centre of your table and allow your children to serve themselves, encouraging them to taste any new vegetables.
Serves
8
Main ingredients
Pasta & Noodles, Vegetables
Recipe Type
Kids Food, Pasta/Noodles
Storage and Texture
6-9mths: Not suitable due to large chunks
Family food: The perfect option for a mid-week meal and great to batch cook and freeze
Writer Siobhan is the owner of Mummycooks.ie, who want to inspire, educate and empower parents to feed their children healthy, home-cooked food. Her blog is a great resource for feeding your child with lots of tips and recipes.
Other recipes you may like
Trending and Sponsored