Spicy chicken pasties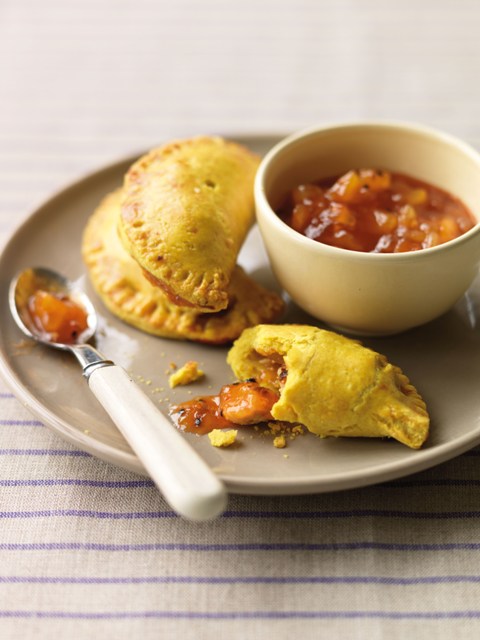 Often used for spicy Jamaican beef patties and some fried dough, turmeric pastry makes a colourful change from regular shortcrust for pasties. The filling for these is tender chicken marinated in a zingy yoghurt mix and then grilled, with ready-made mango chutney (hot and spicy or mild, to taste) to add moisture.
For the pastry
225g plain flour
Good pinch of salt
½ teaspoon ground turmeric
125g unsalted butter, chilled and diced
About 4 tablespoons icy water
For the filling
175g skinless boneless chicken breast, cut into 1.5cm cubes
3 tablespoons natural yoghurt
2 garlic cloves (or to taste), crushed
2cm piece root ginger, peeled and grated
⅛-¼ teaspoon cayenne pepper
¼ teaspoon each ground cumin and coriander
Good pinch of salt
2 tablespoons mango chutney
Beaten egg, to glaze
1 x 12cm round cutter or saucer; a baking sheet, lined with baking paper
Preheat the oven to 180°C/350°F/gas 4.
To make the pastry, sift the flour, salt and turmeric into a mixing bowl.
Add the diced butter and rub into the flour using the tips of your fingers until the mixture looks line fine crumbs.
Using a round-bladed knife, gradually stir in enough cold water to bring the mixture together to form a ball of soft but not sticky dough. Wrap in clingfilm and keep chilled until needed.
To make the filling, combine the chicken, yoghurt, garlic, ginger, cayenne, cumin, coriander and salt in a bowl. Mix thoroughly. If you have the time, cover and marinate for a couple of hours in the fridge.
Preheat the grill to its hottest setting and line the grill pan with oiled foil.
Spoon the chicken mixture onto the foil and spread evenly in one layer.
Grill for 5 to 6 minutes or until the chicken is just firm and starting to colour. Remove the grill pan from the heat and leave to cool.
Roll out the pastry on a lightly floured worktop to a 24 x 36cm rectangle. Cut out 6 rounds with the cutter, or by cutting around the saucer. Divide the chicken mixture into 6 equal portions, draining off any watery liquid that has collected. Spoon a portion of chicken onto one half of each pastry round, leaving a 1cm border clear.
Top each with a teaspoonful of mango chutney. Dampen the pastry edges with beaten egg, then fold the pastry over the filling to make a semi-circle and press the edges together firmly to seal. Press down on the edges with the back of a fork's tines to decorate.
Place on the lined baking sheet. Brush lightly with beaten egg to glaze, then make a small steam hole in the centre of each pastie with the tip of a knife. Bake for about 30 minutes or until the pastry is golden and crisp.
Serve warm with extra chutney.
This recipe is brought to you from 'The Great British Bake Off' by Linda Collister published by Random House
Serves
6
Cooking Time
30 minutes
Main ingredients
Chicken
Recipe Type
Starters, Party Food, Entertaining, Tapas
Special Info
Nut free
Other recipes you may like
Trending and Sponsored