Stuffed sweet potato skins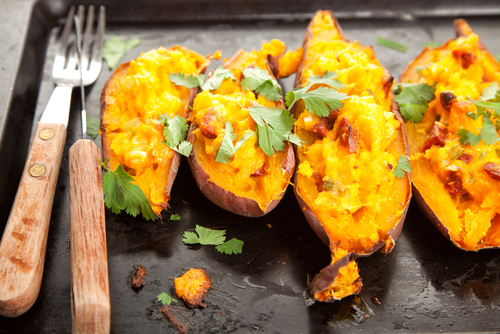 These sweet potato skins aren't just good for you, they taste great too.
3 tbsp olive oil
4 slices bacon,
4 large sweet potatoes
120g grated cheddar cheese, grated
Pinch salt
1/4 tsp garlic powder
½ tsp paprika
Handful flat leaf parsley

Preheat the oven to 220°C/ 425°F/ gas 7. Line a baking tray with parchment paper.
Heat the 1 tbsp of the oil in a large pan and gently cook the bacon until crispy. Remove from the pan and cut into bite-sizes.
Clean the potatoes and place them whole into a pot of water. Bring to the boil and cook until slightly tender, about 10 minutes. Don't allow them to get too soft.
Remove from the pot and leave to cool slightly so that you can handle them easier.
Cut the potatoes in half lengthwise and scoop out most of the inside, leaving a little around the skin edges. Spoon into a bowl.
Line the potatoes skins on the baking tray and sprinkle 1 tbsp of the oil over them.
Place in the oven for 5 minutes.
In the meantime, combine the rest of the oil, the potato middle, cheese, salt, garlic powder and bacon in a small bowl.
Remove the potato skins from the oven and spoon in the cheese mix. Return to the oven and cook until the cheese melts.
Garnish with flat leaf parsley.
Serves
4
Preparation Time
10 minutes
Cooking Time
25 minutes
Main ingredients
Cheese, Pork, Vegetables
Recipe Type
Starters, Dinner, Kids Food, Quick Meals, Snacks
Level of Difficulty
Easy
Other recipes you may like
Trending and Sponsored