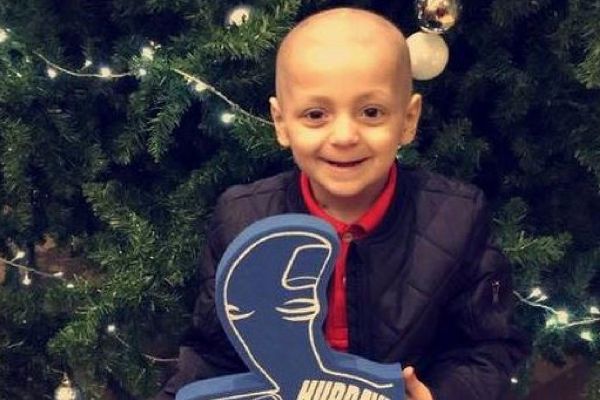 Little Bradley Lowery enjoyed a gathering with friends and a visit from his idol footballer Jermain Defoe last night, despite being seriously ill.
The six-year-old who is terminally ill with a form of cancer known as neuroblastoma struck up a friendship with the footballer after acting as a mascot for Sunderland Football Club this season.
His family have revealed that Bradley's condition has recently taken a turn for the worse, writing on Facebook: "Bradley is very weak and finding breathing difficult but he is fighting it."
On hearing Bradley was unwell, Defoe wanted to "spend as much time as possible" with him and paid the little lad a visit.
His family posted a photo online of the footballer gently cuddling the little boy as he slept.
"Late last night his best friend Jermain came to visit him and it was so heartwarming to see how Bradley reacted," the post read.
"He was so happy and laid for ages getting cuddles. Bradley was really relaxed with him.
Commenting on the photo, one Facebook user commended Defoe for his kindness: "What a brave little lad, and fair play to Jermaine. It's guys like him who should be role models for some of the younger footballers who need to keep it real."
The six-year-old also requested to have a "bed party" gathering with his cousins, friends and "girlfriend" Poppy.
"They all laid on the bed having cuddles I think it was his way of saying his goodbyes," a family member wrote.
Bradley's mum Gemma revealed that while she has had overwhelming support from the public, she has also had to deal with heartless comments from people asking, "when was Bradley going to die".
Cruel trolls have also been setting up fake Facebook profiles and JustGiving pages in Bradley's name to gain likes and donations of money from his supporters, according to The Mail Online.
A post on Bradley's official Facebook page warned his supporters to be aware of scammers and fake accounts who were claiming Bradley had passed away.
"We have been made aware of fake pages created in Bradley's name to gain likes and they even have JustGiving pages linked to them, please be vigilant," the post read.
"Thank you for your continued support and when the time comes it will be put on Bradley's official Facebook and Twitter before anywhere else."
Our thoughts are with Bradley, Gemma and all his family and friends.