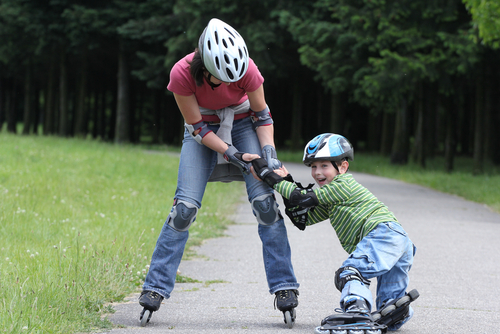 Exercising is important for both kids and adults to ensure a healthy life so why not do it together. Introducing your child to gentle fitness will also help to set them off on the right foot. However, before you set out, keep in mind that your child won't be able to go as far or as fast as you, but you are guaranteed to have some fun.
Here are four exercises you can do with your child and have a laugh at the same time:
Cycling
Cycling together is always fun and is a great way to get outside. There are so many lovely parks and bike trails around that you will be spoilt for choice. Make sure you are away from main roads and stay as close to your child as possible. Keep to flat ground if you want to go far but if you feel like pushing both yourself and your child have a little race.
Roller blading
Reminisce on your youth and introduce your kids to the fun of roller blading with this fun exercise. If this is your child's first time on blades head to the park and stick to smooth ground. This is a fun way to work the leg muscles and get some fresh air. Don't forget knee and elbow pads and your helmets.
Swimming
Grab your togs and go swimming. This is a perfect way to work out all the muscles and is great if it is raining outside. Laps of the width of the pool are fun but make sure your child can swim properly before you have them do this. You don't have to spend the whole time doing laps, make sure you keep time for some splashing around.
Running
Running can be a great exercise to do with your kids. Keep it to a slow jog and try to maintain a steady pace. Bring water for both of you and tell your little one to let you know if they start to feel tired or unwell.
Don't forget to stretch before you go and never push your child too hard. They may damage a muscle or it may just put them off going again. Exercising together will help to build a strong and solid mother daughter/son relationship.