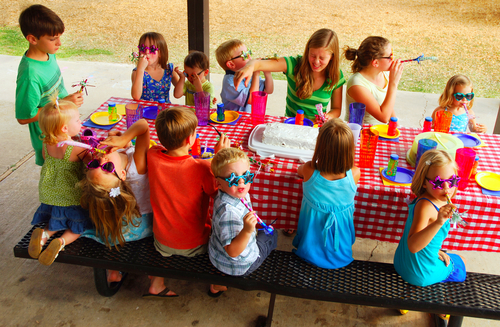 Your little one's impending birthday is definitely the highlight of their year, but maybe not yours. When it comes to parties, a lot of mums like to stick to the traditional at home party to keep the costs down. However, sometimes it seems that paying the little extra to have someone else deal with the hassle might actually be worth it.
Here are 6 reasons not to have the birthday party in the house:
The rain
Even if it is the height of summer you should expect rain. This means that the kids will be cooped up inside the house and if you do take a chance and organise a bouncy castle, expect mud to be trampled into the carpet.
The goody bags
Seriously, the cost of these bags can really start to add up when you factor in pencils, rubbers and treats. Not to mention having to go out and buy the stuff and discouraging your little one from picking up the most expensive, useless present for the bag. When you have the party outside of the home all this fiddly stuff is usually included.
Decorations
You can't have a party without decorations. This includes banners, tableclothes - you simply can't trust the kids with the good Christmas tablecloth - and blowing up more than two balloons can leave you wishing you had organised someone else to take care of the hassle.
The food
Trying to organise food to fill 20 mouths is a full-time job in itself. No doubt you will end up buying extra just so nobody will go home hungry – God forbid the other mums thought you failed at your party duties. You will also spend a good portion of your Saturday in the supermarket trying to find food that comes in a miniature version: mini pizzas, sausage rolls and cocktail sausages, the list is endless.
The games
There is a reason you didn't enter the entertainment business and traditional games means more hassle and money. Pass the parcel only lasts so long and you can't play musical statues without a prize at the end. Cue you sitting on the floor in a panic wrapping prizes ten minutes before the guests arrive and you haven't even got out of your pyjamas yet...
The tidying up
Argh. If this doesn't make you want to send the kids to an outside party we don't know what will. 20 kids equals a lot of mess. A lot.