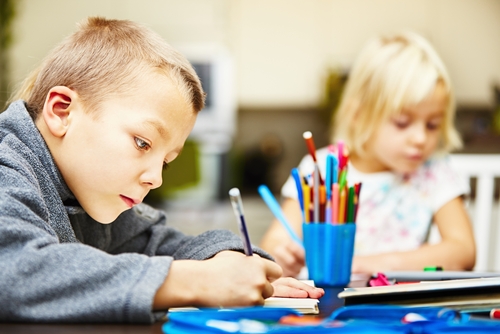 If your kids are anything like ours they will have a really short attention span that will not only frustrate you as you try to get them to do anything but will also affect their school work.
However, there are a few things you can do to increase their concentration and attention span which will help them in school and you will find you aren't getting annoyed with them as often.
Play games that focus on concentration
Try to involve them in games that encourage concentration. Board games, word searches, crosswords, and even arts and crafts are types of activities that require time, effort and a lot of focus.
Get them to exercise
Sometimes your child's lack of attention is simply down to them having too much energy, so make sure they are getting adequate time to play and get involved in sports. A run around before homework or chores is often enough to get rid of any pent up energy that will simply distract them from their task at hand.
Keep TV and video games to a minimum
TV and video games act as a stimulant and cause your child to become fidgety and aggressive so try to keep screen time to a minimum.
Have a set homework time
A special area for your youngster to study, and a regular set homework time will help your little one get into the act of focusing on the task at hand without any interruptions or wanting to do anything.
Don't spend too long doing homework
Don't encourage your child to spend too long doing their homework. You and the teacher need to set a realistic expectation of how long it should take and stick to it. This will mean that your child will know how long they need to concentrate for.
Focus on one task
Don't give your child too many tasks at once as they will struggle to focus on either, feel overwhelmed and not be able to get either task done. Doing one thing at a time will help your child focus and learn to concentrate on the task at hand.