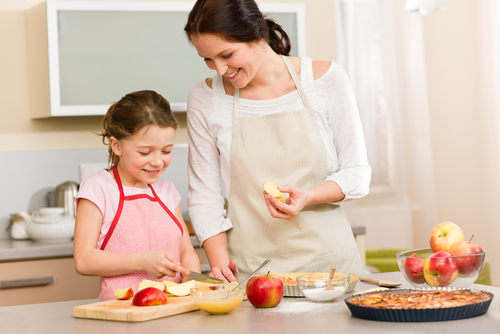 Spending time with your little girl is always fun but sometimes it can be easy to run out of ideas. Here are some great and easy ways to spend some time with your daughter:
Ice-cream date
Whether you grab a tub from your local supermarket or go to a special restaurant for your cool treats; ice cream dates are not only delicious, but a great way to chat with your child.
Baking
Most little girls love to bake. So, if you have the time and energy, why not let your little one join in when comes to baking some of her favourite treats.
Pamper each other
No matter her age, every girl loves to be pampered. Whether you decide to paint her nails or let her experiment with your look, pampering each other can be a fun and relaxing way to bond with your daughter.
Day-out
Your little girl might too young to fully understand the concept of shopping just yet, but could equally enjoy a fun day out with her mummy. A day-trip could be many things for your little girl from going to the cinema, a walk around town or a trip to the zoo, as long as you and your daughter have fun.
Make it an all-girl affair
The more girls the better, you could invite your daughter's friends and their mums or even your own mother. Having a group of girls together can be great experience for your daughter.
Bring her to work
Bringing your daughter to work can be a great opportunity for many reasons. Not only can your daughter see what you're like in work but it can also inspire her on what she might like to do in the future.
Exercise
It doesn't have to be intense, but something as simple as going on an evening walk together or even a day cycling, can be a great way to keep fit but to spend time with each other as well.
Crafts
It could be sewing, drawing or any task you think that you and your daughter might enjoy together. Crafts are not only a fun activity for both you and your daughter, but can also give you objects that you can both cherish for years to come.