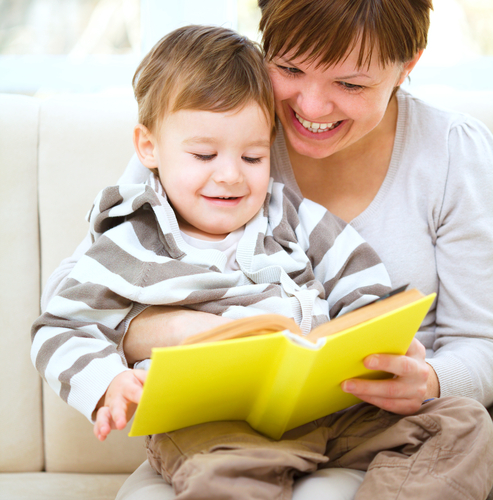 Reading a book to your child can be a very special experience for both you and your tot, so here are nine great books that you can read to your little one:
Green Eggs and Ham by Dr. Seuss
This book is not only an easy read but has great images too. Your tot will also love listening to the easy rhyming that comes along with this book, such as "Sam-I-Am".
The Very Hungry Caterpillar by Eric Carle
A classic that all children will love, this book includes great illustrations and your child will not get enough of this hungry caterpillar.
Counting Kisses by Karen Kratz
This book is a sweet way to help settle your little one for bed and is a great story about the countdown to bedtime that all parents and tots go through.
Corduroy by Don Freeman
For any child who has dreamed of having a shopping centre to themselves, Corduroy is the book for them. This cute bear has lots of adventures whilst searching for his lost button in an empty shopping centre.
The Family Book by Todd Parr
This book is great for teaching your tot about different families. The Family Book explains in a sweet way about the different types of families from the traditional family, adopted family, same sex parents and step families.
Brown Bear, Brown Bear, What Do You See? by Bill Martin Jr., illustrated by Eric Carle
This is not only a fun rhyming book for both you and your tot, but it will also teach your little one about all the different colours and animals in the world.
A Pocket for Corduroy by Don Freeman
Another fun filled book about Corduroy's adventures, this time the little bear is in search of a pocket after realising he has none of his own.
Guess How Much I Love You by Sam McBratney and Anita Jeram
A sweet tale of two Nutbrown hares who both ask each other the question "Guess How Much I Love You?" The two hares then go onto to use larger and larger measures to quantify how much they love each other.
Hippos Go Berserk! By Sandra Boynton
A fun story for your tot, Hippos GO Beserk! is a great way to introduce counting to your toddler. Both you and your toddler can count the amount of hippos that continue to arrive throughout the night to the hippo party.