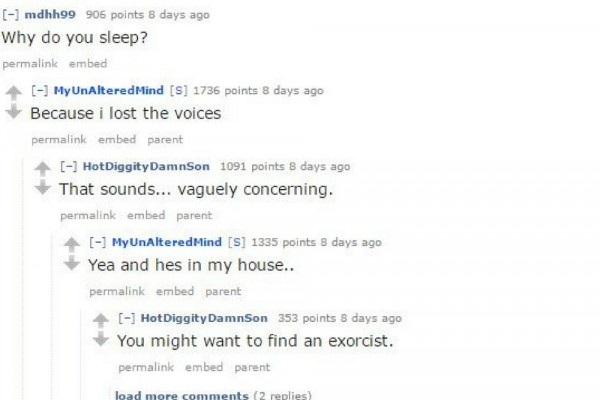 If you need something to make you laugh today, then this internet thread will have you in stitches.
A little boy and his dad created their own Reddit Ask Me Anything (AMA) thread and set about answering some of life's biggest questions.
Matthew Clark, 27, noticed the AMA threads becoming popular online and thought it could be funny to do one with his three-year-old son, Caleb.
He shared the thread called "I'm three, I know everything, AMA" online and asked other Redditors to submit appropriate questions for his little boy to answer.
Needless to say, he was inundated with hilarious questions from Redditors eager to get some quality life advice from Caleb.
As users submitted their questions, Matthew asked Caleb for an answer and let's just say, he had an answer for everything.
Questions ranged from "Why do you sleep?, "What's behind your eyes", to "What's the meaning of life?" and "What is your opinion on America's current political affairs?" and Caleb had lots of insights to impart.
In fact, Matthew had to ask users to bear with him, saying: "He should be able to get to them all but it may take a little time.
"Just got home from work and he's in time-out. He gets mad if I ask too many questions during his cartoons but he'll answer some more tonight."
The young dad was surprised how quickly the thread took off and that they were so many people interested in what his son had to say.
"Wow . . . I didn't expect this to be this popular. I expected maybe 20 or so questions", he wrote.
Redditors asked the little boy for advice on pasta dishes (his response was "add some cake") and the old favourite "How much wood would a wood chuck chuck if a wood chuck could chuck wood?, to which Caleb replied "I don't care."
Matthew update the thread to thank users for taking part saying: "Thank you to everyone who replied.
"I did not expect this but I'm so happy that my son's all knowing wisdom could make any of you smile even if just for a moment. And the questions/responses have had both my wife and myself laughing and feeling fuzzy goodness.
"I'm sorry if we've missed some questions! This blew up more than I ever expected.
"If I missed your question, I'm sorry it wasn't intentional. If you'd like to ask again I'll do my best to ask 'the all-knowing one' again. I'm on mobile and posts seem to get lost."
Read the entire hilarious thread here and enjoy!