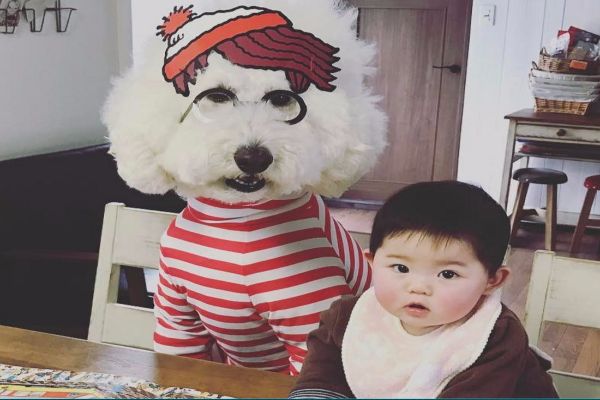 A little girl and her big dog are bringing new meaning to the word "kawaii" (That's Japanese for "cute" to you and me).
Mame, a one-year-old Japanese girl and her best friend – a giant poodle named Riku are taking the internet by storm with their adorable pictures on Instagram.
Dog owner Tamanegi has been posting pictures of his poodles Qoo, Riku and Gaku for a few years but its only recently her images have been gaining momentum on the internet. This is all thanks to her cute, little granddaughter.
The photographer has been taking pictures of his little girl with his pets and depicting different adorable situations such as "shopping with dogs", "cooking with dogs", "breakfast with dogs" and "birthday party with dogs".
The poodles are giants in comparison to little Mame. Royal poodles such as these can grow up to up to 25 inches (63cm) at the shoulder and weigh more than 60 pounds (27kg).
They have all posed with adorable costumes with bandanas, bonnets, berets even a "Where's Wally?" costume to add into the mix.
Mame and Riku, in particular, look like they are having a whale of a time and they are quickly becoming the internets cutest "bbfs"!
Mame's grandmother has nearly 400 posts and 128 followers already on her Instagram page and is starting to sell Qoo and Riku merchandise online.
The duo even made it onto the news in Korea, dubbing them the cutest thing on the internet.
"Omg look at this account and tell me this isn't the cutest thing you've ever seen!" said one follower.
"I already want a standard poodle now. Love it!" wrote another commenter.
"I'm melting already." said another person.
"Mame-chan is simply gorgeous! Looks like she's having so much fun!" said a follower on Instagram.
Together, the two can attest to the fact that kids and pets make the most adorable duo with memories that'll last a life time and beyond.
You can also look at 10 of the internet's sweetest pictures of toddlers and their pets.
Well, mums, do you have any adorable pictures of your little ones with your beloved pets? Or maybe you have a picture of yourself when you were little with your pet? Let us know in the comment section!