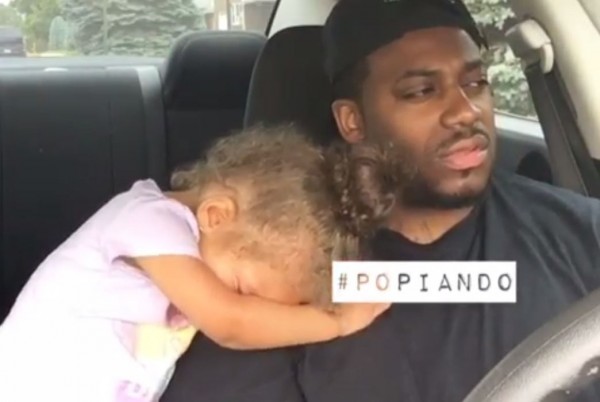 There's a lot of serious stuff going on in the world this week, from the British elections to the Comey hearing; and it's at times like these that we need simple but heart-warming stories to centre us.
This is exactly what we have for you today, in the form of one beautiful father-daughter exchange on Instagram.
Popiando Vazquez took to the content-sharing site this week, to share his expert strategy for comforting his daughter when she was so devastated she couldn't even speak clearly.
In the short video, Popiando is seen sitting in the car with his two-year-old daughter, who is extremely upset. From what viewers can gather, her little friends told her that she was 'bad', and she could barely speak through her tears.
"Don't let them see you cry, OK?" Popiando tells his precious little one, as she tells him she just wants to 'see Mommy'.
When it all gets too much for Tiara, she collapses onto her father's shoulder, and he embraces her into the biggest and best 'daddy hug' we have ever seen. It worked a treat, too.
Popiando learned a valuable lesson from the experience, too – sometimes, when a loved one is upset, a hug can go a long way.
"Stop trying to figure your #wcw [Woman Crush Wednesday] out – all she really wants is a hug, son!" Popiando explained to all his fellow dads and partners out there.
"My shorty got sense and logic, just sometimes needs to express herself with wordplay that I'm unfamiliar with. Sometimes these women just need a hug."
As simple as it may be, Popiando's video has really struck a chord with people all over the internet. Indeed, in just two days, the footage has been watched over two million times!
The post has been accompanied by an outpouring of love and praise, too.
"That's a good dad, right there. She's precious," wrote one fan of the video.
Meanwhile, another chimed in: "This was so heart-warming. Please be that man forever for your girls. I swear, more little girls need this so they know what to look for and are worth."
Well done, Popiando. We're sure that part of the reason why this post has resonated so much, is that dads and mums everywhere know of the power of a comforting hug and loving support.
We simply adore this video.