Back-to-school season can be a little bit of a worrisome time for parents of children with asthma, especially with the ongoing COVID-19 pandemic.
That's why we were thrilled to hear that the Asthma Society of Ireland, supported by Trudell Medical International, is launching an educational and informational back-to-school webinar.
Taking place next Tuesday, August 31 from 7-8pm, this webinar aims to educate and support parents on their child's return to school, and support their asthma management, amid the ongoing COVID-19 pandemic.
As part of the free informational event Parenting Coach and Founder of Parent Support, Aoife Lee will share her top tips on setting up your children with the right tools necessary to tackle the new school year, such as building their confidence and helping them make new friends. There will be an added emphasis on how to educate our children about their asthma, providing them with the tools to communicate about their condition to those around them safely and inclusively.
Mary McDonald, Advanced Practice Nurse at Tallaght University Hospital and Samantha McCabe, Respiratory nurse specialist at the Asthma Society of Ireland will also be joining Aoife as a panelist on the webinar and will be covering the basics of asthma management in children, the hints and tips that can work for parents, a Back2School checklist and support services that the Asthma Society provides.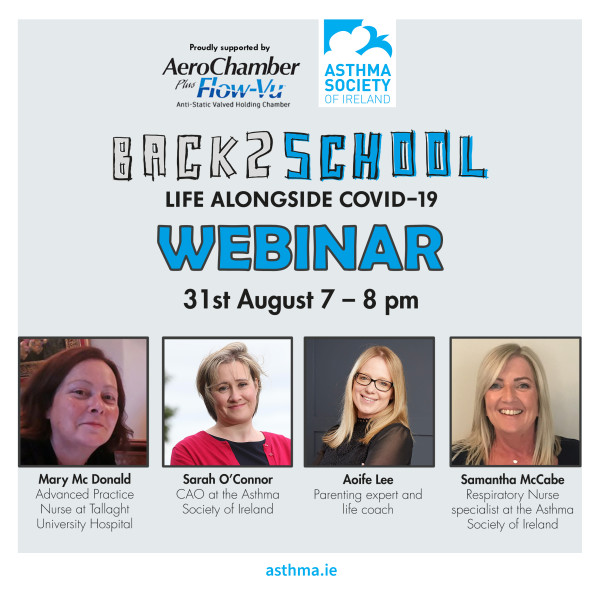 The webinar will also feature an Asthma Advocate Video from Ingrid (age 10) who will be sharing her thoughts on living well with childhood asthma, how she manages her condition and her top tips for staying well at school.
The free online event will take place on Tuesday 31st August from 7 pm to 8 pm, and the Asthma Society would like to invite all parents and carers to register for the event via asthma.ie.
Teachers are also welcome to attend although a similar informational webinar will be taking place in late September specifically for teachers and school staff. Details for that event will be released shortly.
For more information on the Asthma Society and the patient support services available visit www.asthma.ie