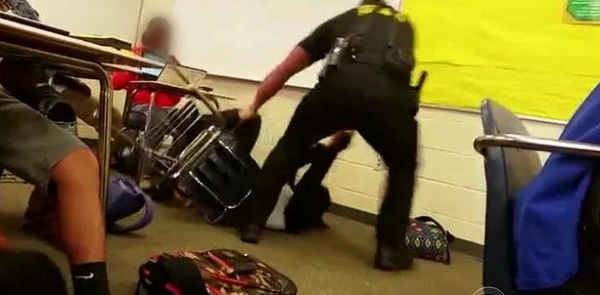 It was the story that shocked and disgusted parents all over the world this week, showing an alarming act of violence towards a teenage pupil, and now an update has been released in the case.
Just a day after footage showed him body-slamming a female teenager in school, forcibly pulling her from her desk and dragging her along the floor, Deputy Ben Fields has been fired from his post.
The news was confirmed this afternoon by Richland County Sheriff Leon Lott, who said that Fields – who had been serving as a school resource officer at Spring Valley High School – had left the force.
The update comes following an investigation into the incident, which was filmed by a student who witnessed the fracas taking place. A report into the incident concluded that the force used on the student was not based on acceptable procedure.
After the story broke yesterday, former Deputy Fields was taken off his regular duties and set working on administrative tasks.
Todd Rutherford, attorney for the girl involved in the incident, told local media that she has a cast on her arm as well as neck and back injuries.
According to reports, Deputy Fields acted when the teen refused to leave the classroom; she had been accused of disturbing the peace.