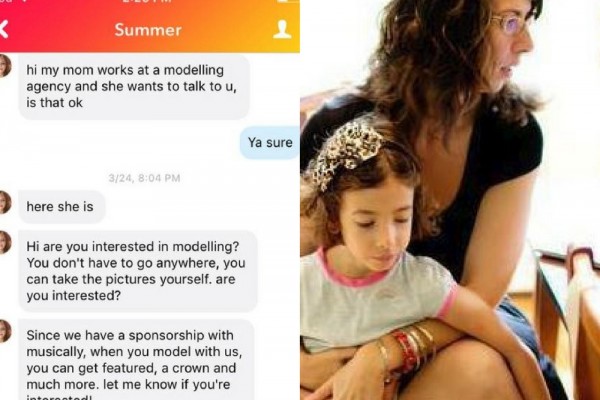 It seems like every week there's a new app out that parents need to be aware of and it's hard to keep up with all of them.
Many apps seem totally innocuous and it's hard to judge if they pose a risk until actually using them.
Mum Brenda Jennings' story about the popular app Musical.ly will definitely make you think twice.
Musical.ly is an app that allows users to make 15-second lip sync videos and share them – either with friends or publicly – and comment on others' videos. It's intended for users aged 13 and up and at first glance, seems totally harmless.
Brenda was happy to let her daughter Anna use the app as she trusted her daughter's judgement. She also made ground rules with her daughter prior to letting her using the app.
These included not using her real name, no swearing, having a private account and allowing Brenda to review any friend requests she received.
However, after her daughter changed her messaging settings from "private" to "public", Brenda found a message in her daughter's inbox that concerned her.
It was from a stranger, pretending to be the mother of another user, asking Anna if she was interested in "modelling" and asking her to send photos of herself.
Luckily, Anna turned down the creepy request and didn't engage with the person again.
Brenda shared photos of the texts to her Facebook page, explaining why she would no longer let her daughter use the app.

"I'm eating some parenting-flavored crow today and reversing my stance on musical.ly. I enjoyed the creative, funny videos Anna would make with her friends," she wrote.
"It wasn't the hand gestures or obnoxious song loops or even the swears, it was finding that she switched her account to public, had deleted comments, and then this, which I found in her 'people you don't know' mailbox.
"I trust your judgement with your own kids, but remind you to be diligent in monitoring their activity."


Brenda has now deleted the app and says she knows she still has to discuss safety in-depth with her daughter. She said: "I told her that some people on the internet will try to trick little kids, that they manipulate them for bad reasons."
Other parents have also reported finding disturbing messages on musical.ly, according to EssentialKids.
One dad reported that his eight-year-old daughter was receiving creepy messages saying "you're way too pretty to be single" from someone purporting to be an eight-year-old boy.
This is certainly a timely reminder for parents to be vigilant and aware of all the apps and games their children and teenagers use.