If you ever feel a little twinge of guilt when you see your child playing a video game instead of playing outside, you can now relax. A recent UK and Ireland academic study found there are several benefits to children playing video games.
The study, which was conducted by Dr. Tomas Chamorro-Premuzic, Reader in Psychology of Goldsmiths University, examined how parents in both the UK and Ireland used games to interact with their children.
The results from the Irish study showed that 92% of Irish parents play casual games with their children daily. It also found that:
69% of Irish children surveyed are more relaxed after playing
78% or Irish children report an improvement in their understanding of technology through playing
56% of Irish children felt an improvement concentration span (focus) through playing games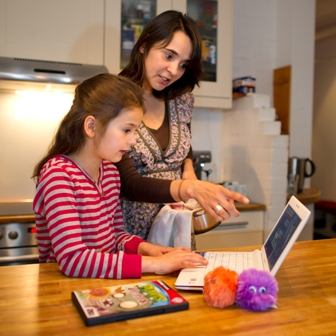 The research, conducted by PopCap Games, in partnership with Dr Tomas Chamorro-Premuzic of Goldsmiths University, specifically looked at the role of 'casual games' – simple puzzle or strategy games, such as Plants vs. Zombies™, Angry Birds or Bejeweled
®
– in helping parents and grandparents bond with their children and grandchildren.
Debunking the myth that video game play comes at the cost of 'healthier' pursuits, three quarters of parents state that their computer game-playing children also exercise regularly and eat healthily.
The study also shows that the growth in casual games has resulted in children as young as two becoming proficient in the use of smartphones and other tablet devices, and over a quarter of parents reported that their children borrowed their smartphone every day to play casual games.
Dr Tomas Chamorro-Premuzic, Reader in Psychology at Goldsmiths said: "These findings are important because they highlight the social benefits of playing videogames. The fact that both parents and grandparents are using games to connect with their children and grandchildren, and quite successfully, suggests that video games can improve social skills and make a key contribution to both effective parenting and child development."
Cathy Orr, Senior Director of International PR, PopCap said: "As technology becomes even more consumer-friendly, we at PopCap are delighted to see videogames playing an increasing role within family leisure time. Videogames are becoming as popular a mainstream lifestyle entertainment as movies or music and finding a place in family life alongside traditional parlour or board games – or in many cases, providing a new videogame format for family favourite board games. PopCap has conducted a lot of research to prove that casual games are not only extremely fun but can also aid stress relief - undoubtedly a positive for family members across the board!"