While many of us are aware of the dangers of looped cord blinds in the home, it is only when tragedy strikes that we start to look at just how safe our own blinds are, and how we can make them even safer.
Shockingly, six small children have died from strangulation by a blind cord or chain since 2005. Sadly, mum-of-two Lynda Redmond knows all to well about the dangers, and recently opened up about the tragic death of her two-year-old daughter.
And while that cord in question was believed to be safe, it brings home the importance of double-checking and regular inspection.
Here are a number of ways to lower or eliminate the risk of strangulation:
1. Keep furniture away from windows
Don't place beds, chairs, tables or even highchairs near a window with a cord. Toddlers are extremely active, climbing furniture and being naturally curious, which puts them in extreme danger around cords.
2. Invest in a safety device
There are plenty of safety devices available to make pre-existing blinds safe. Your local hardware store will no doubt stock a number inexpensive items such as a snap release for when the cord is put under any pressure.
3. Cut looped cords
If you have long, looped cords in your home make sure you cut them and them put them up high out of your child's reach.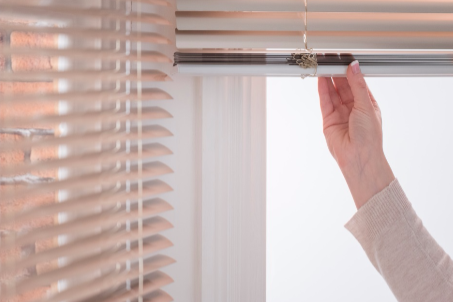 4. Keep them short
Cords should end at least 1.6 metres above the ground - away from little hands.
5. Use cordless blinds
One of the most effective ways to keep your little one safe is to purchase blinds that don't have a cord at all. Swish - the leading window decoration experts - recently created the unique Cordless Aluminium Venetian blind range that provides the ultimate in child safety. The SwishRise cordless models feature an integrated safety system to prevent the risk of harm by ensuring integral cords cannot be pulled to create a loop - perfect for homes with toddlers.
6. It's not just blind cords that put your child at risk
Unfortunately it is not just blind cords that you need to be aware of. Toys with looped rope, wall bunting or even bags with a drawstring can also be a strangulation risk - always be aware of dangers.

Remember, it takes SEVEN SECONDS for a child to lose consciousness and ONE MINUTE to die.