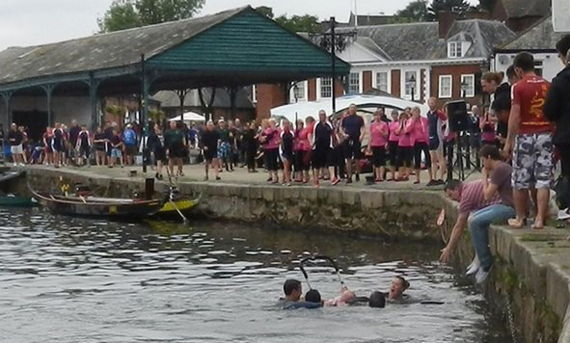 This photo managed to capture the amazing moment of when a mother and a group of by-standers jumped into a river to save her little girl from drowning.
The mum and her one-year-old daughter were attending the Dragon Boat Race in Devon, when her stroller rolled off the quayside into the river with her daughter strapped inside.
The young girl's mum leapt into the river along with some by-standers and thanks to their brave efforts were able to rescue the toddler and bring her to safety.
Victor Martinez, was one of the by-standers who rescued the little girl and revealed that he didn't think twice when it came to helping the mother and her daughter.
"I was standing on the side with other members of my team - The Raging Dragons - when I heard a deafening scream. At first I wondered why the woman was so worried about a pram, but then I saw the baby girl's arms flailing on both sides of the buggy. I didn't think about it, I just ran and dived straight in the water. I think I hit the water at the same time as the buggy. I didn't think twice."
Victor said it became difficult to lift the tot's prom from out of the water, as the stroller began to sink quickly.
"We managed to get her to the top and I was struggling to keep the buggy at the surface when I saw the girl's face for the first time - she was screaming and crying but I looked into her eyes which were full of river water and just thought that she wasn't going to drown today. I think seeing her face gave me the extra push and we managed to get the pram to the wall."
Victor along with his teammates were praised by organisers for their brave actions.
"Thanks to some quick-thinking by Stuart Menzies, Vic Martinez and Andy Travers of Raging Dragons who jumped in to rescue the child and pram, it had a happy ending with the child seemingly ending up without a scratch, though a little wet."
The young girl was checked into hospital as a precaution but is said to be doing well and was even laughing after her rescue.