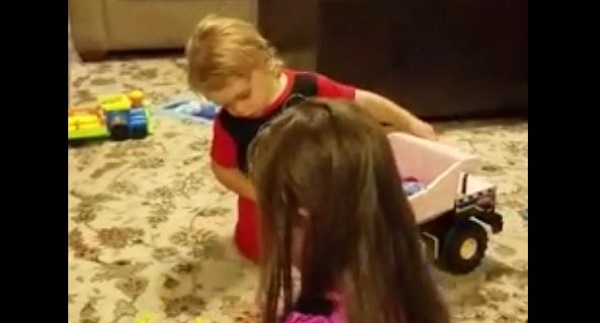 Anyone who is a parent to a toddler will know that they can get up to some crazy mischief, and the old saying of 'you only need to take your eyes off them for a minute' is all too true!
This has been proven in the most hilarious way today by dad Paul Schettini, who has shared video evidence of the chaos his two children caused after being left alone for just seven minutes.
The US dad took to Facebook to share the video, which shows one the kids' bedrooms absolutely covered in paint!
Paul told ABC News that, with his wife out of town, he was looking after the kids on his own; and when his daughter asked if they could go and play in her room while he cooked the dinner, he didn't see a problem.
However, less than 10 minutes later, giggles alerted him to a scene that would stress out any parent – the mischievous pair had managed to get paint all over the wooden floor, the white wardrobes and beautiful wicker baskets – and even the Elsa rug!
"My son, who was previously clothed, was walking towards me in just a diaper and what looks to be war paint. And behind him he's leaving a trail of red and green footprints all over the floor. And I went, 'Oh Lord.' I followed him and the footsteps back, and I figured they had gotten into a little bit of fingerpaint. I thought it couldn't be that bad, but I turned into my daughter's room and it was like I got hit with a brick. I just stopped and froze," he recalled.
Despite destroying the room – and even getting pink paint on the family's dog's paws – Paul was able to laugh off what is sure to become a favourite family fable.
"I was so shocked, but I never got mad. I just laughed. It's kids being kids. It's a funny story," he said.
He's one tolerant dad!
SHARE with a friend who will be able to relate to this man's struggles.