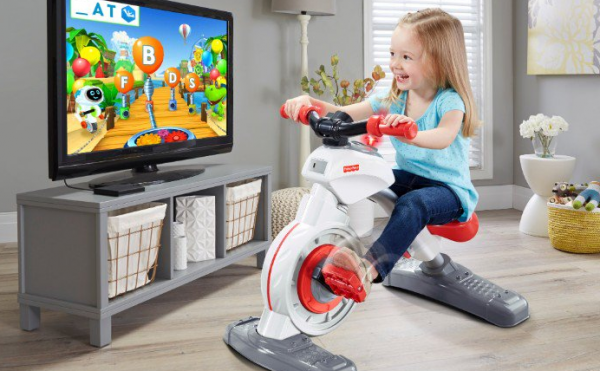 Admittedly it's a lot harder to get kids out and about enjoying exercise when there is a brightly flickering screen luring them back to the couch, and as a parent you might be worried about how all that time on the tablet will effect your child's waistline.
Fisher-Price is trying to rectify the new generations lack of exercise with a stationary exercise bike specifically designed for toddlers, but the new toy is causing major conflict online.
At The Annual Consumer Electronics Show, the toy maker showcased the bike for the first time, which connects to TVs or tablets.
We're at Pepcom checking out even MORE tech, how's this exercise bike for fat kids?... OK or lack of space. pic.twitter.com/CbYEd0BdJK

— EFTM : + + (@EFTM) January 5, 2017
The product promises some guilt-free TV time for both kids and parents, as the bike works using interactive games that the kids cycle through to win.
Kids who haven't started school yet watch around 19 hours of video content a week and spend roughly 20 percent of their playtime using electronic devices according to a survey by Fisher-Price, so arguably getting in some exercise during this time is a pretty good idea.
The Think & Learn Smart Cycle will go for about €150.00, and will have a series of downloadable games for your kids to exercise their way through (for €5.00 a download), though it will come pre-loaded with one.
@CNN or you could just limit TV time? How lazy is this country?

— Srh143 (@Srh143) January 4, 2017
The apps will focus on introducing science, technology, engineering, and maths to kids in a fun way, encouraging early math skills, and and interest in science and social studies.

However some parents aren't impressed with the latest development in toy technology: "Whatever happened to running in the backyard?" questioned one.
"So apparently an exercise bike for kids has been pitched..Teach your child how to ride a real bike and bring them outside!! My god," said another.
Just having "exercise bike" in the description of the bike makes me cringe. Kids don't need that pressure to assimilate so young!

— Linda Dianne (@Elle_Lo) January 5, 2017
While some parents aren't into the Think & Learn Smart Cycle, others don't see the harm in letting kids work off some extra energy.
"Im SO buying this for the girls when it comes out in the fall!" commented one eager mum.