While we're all spending the summer at home or holidaying in Ireland, make sure you've all of the best value outdoor play equipment to us all entertained! Aldi's latest Outdoor Specialbuys go on sale from Thursday July 23 and Sunday, July 26.
Trampolines have been a true blessing for parents as the schools closed during lockdown and if you've yet to get your hands on one then look no further!
Aldi has both a Junior Trampoline and an 8ft Trampoline on sale later this month.
From July 23, the Junior Trampoline will be on sale for €64.99. This 4.5ft Junior Trampoline with enclosure is engineered for safe and secure fun. The trampoline has zinc-coated springs covered with safety pad. It also has a rust-free durable galvanised steel frame. Assembled size approx. 1.4 x 1.4 x 1.86m. Max. user weight approx. 40kg. Suitable for ages 3-6 years. Adult supervision is required at all times.
For the bigger kids, the Springsafe® 8ft Trampoline is ideal. Available to buy for €99.99, the Springsafe® 2G® trampoline enclosure protects against contact with springs and frame. The galvanised steel frame ensures rust-free protection with added strength. Made from durable, weather protected materials. The trampoline also includes Safety Net. Assembled size approx. 2.4 x 2.4 x 2.1m. Max. user weight approx. 50kg. Suitable for ages 6+ years. Adult supervision required at all times.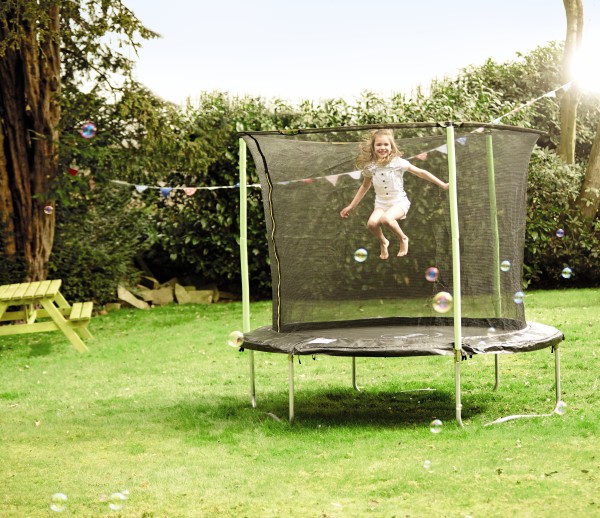 Also on sale from Sunday, July 26 is the Double Swing with Glider for €79.99. The strong powder-coated steel provides long lasting protection against rust. It has two durable, moulded seats and a two seater glider. Soft-feel ropes. Easy assembly with tool provided. Approx. 2.68 x 1.78 x 1.83m. Max. user weight approx. 50kg. The swing set is suitable for ages 3-10 years.