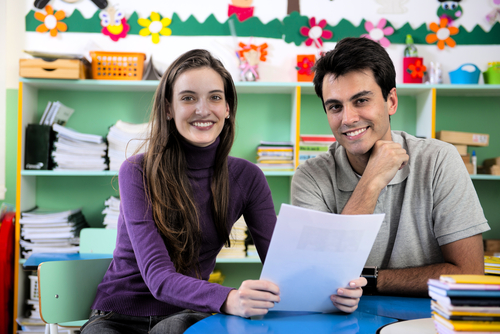 A parent teacher meeting is a great way to get a much-needed insight into your child's school life and will give you plenty of opportunity to see what is going on and where you can help.
To help you get the most out of the meeting, here are five things you need to keep in mind:
Have a list of questions ready
It can be daunting sitting there in front of a teacher as they discuss your child, so much so that you can forget what it is you really wanted to get out of the meeting. To stop this happening, write down a list of questions that you would like to ask and bring them with you.
Write down notes
The teacher is likely to say a lot of things which can easily be forgotten so b
ring paper and a pen to write down notes. When you are talking to your child about the meeting you will have notes to reference or jog your memory.
Go in with an open mind
Don't go in expecting the teacher to say only good things about your son or daughter or in fact bad things. Make sure you go in with an open mind ready for the unexpected and leave your attitude at home. If you are not happy about what the teacher is saying, don't become all defensive. This won't help either of you solve the problem or in fact make school any easier on your child.
Get in-depth information
It is important you try to get as much in-depth information as possible. If you are finding the teacher is simply skimming over information or problems, you need to ask them to explain a little bit further. Don't pretend you understand something or are aware of something happening. This won't do your child any favours.
Be honest
If there is something happening at home that is affecting you child's school performance, be honest. There is no point telling them that everything is fine and dandy at home when it isn't – the teacher may struggle to understand why a child who was performing so well isn't any more. The same goes if your little one is struggling with certain subjects or doing their homework.