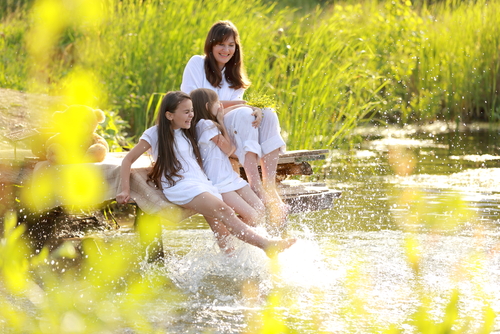 The summer is a great opportunity to get your son or daughter interested in nature. As you spend more and more time outdoors, from early morning to late evening, you can introduce your child to the wonders of nature and teach them things about the world that they might miss in the classroom.
These tips are great for getting you little one excited to go outside.
Go outside and go exploring with them. You being involved is necessary to ensure they become interested. Go up the mountains, down to the beach or even to the local park and find things that catch your eye. Make sure you come across as being eager to uncover new things – your excitement will rub off onto your children.
Provide them with the right equipment
Make exploring fun and interesting by providing your little one with equipment that will make the experience more real and intriguing. A pair of binoculars is great if you are going
bird watching
, a compass will come in handy when you are hiking up the mountain, traditional maps show your child how things used to be done and a copy book or diary is a great way for your little one to document their adventures.
Don't take over
Provide your little one with the means and location to go exploring, but don't take over. Encourage them to take the lead when you are outside so that they feel free enough to go off discovering on their own. While kids like direction they need the freedom to find their own way and discover things they love on their own.
Start a project
Start a project with an end goal so that your little one has something to work towards. Provide them with a scrapbook and a list of things to find and encourage them to write down what they learnt about their findings. This way your youngster will be able to track their progress and look back on it as they explore more things.
The outside is a great escape from the urban built up world that a lot of kids are now growing up in. Introducing your little one to the wonders of nature will ensure they don't lose the lust for the outdoors as they grow up.