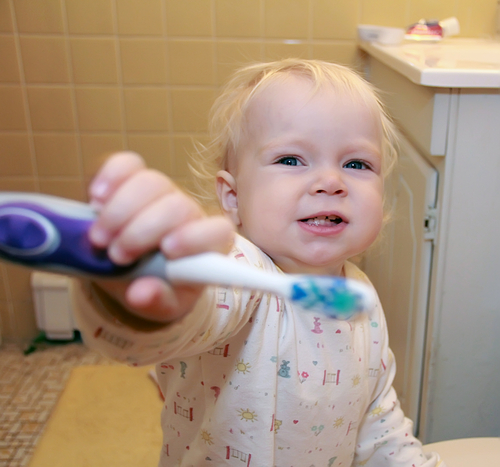 Getting kids brushing their teeth from an early age is one of the most important habits that you can get them into – but that doesn't make it easy.
Follow these seven tips and they'll be brushing like a pro in no time at all:
Make it part of the bedtime routine
Make it a part of the bedtime routine so that it will eventually just become second nature and they won't even think twice when it comes to doing the task.
Make a big deal out of it
Make it a huge deal by going out and letting your little one choose their own toothbrush and giving them a special place to put it. Alternatively wrap one up for them and present it as a gift – kids love unwrapping presents.
Star chart
Star charts are a great way to motivate your child to do something. For instance every time they successfully remember they need to brush their teeth or after they do it give them a little star. Give them an incentive for getting lots of them by having a prize at the end, once they've gathered a certain number of them.
Show them how to use it
Let your little one watch you doing your own teeth to show them how it is done. Seeing you doing it will help them feel more comfortable when the toothbrush is in their mouth.
Don't spend too long on it
When starting off don't spend too long on the task at hand. Gradually increase the length of brushing over time so that your son or daughter will get used to the brush and the sensation of it in their mouth.
Sing a song
To make it a little more interesting, sing a song for them while you are brushing their teeth. This will keep their mind occupied and stop them focusing too much on what is happening in their mouth.
Don't use toothpaste
A lot of kids don't like the taste of toothpaste so don't force it into their mouth if it makes them feel uncomfortable. Right now you want to get them used to brushing – you can start using toothpaste once they have the hang of the brush.