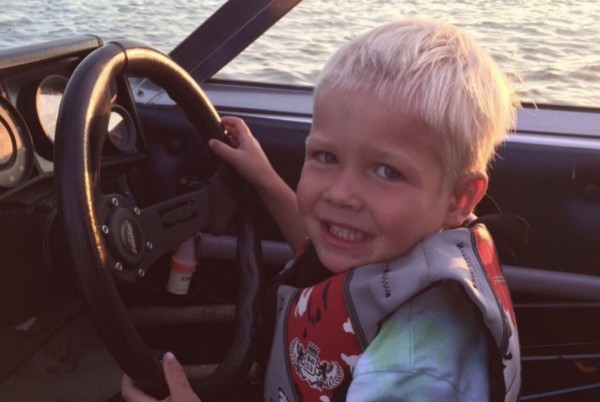 A family are being comforted following the tragic passing of their toddler son, who died after getting his head stuck in a car window.
A GoFundMe account (link here) and Facebook memorial page have been set up, after the death of little Logan Vanderkleed.
The two-and-a-half-year-old was reportedly 'napping' in a car with his sister, on their family farm, when the incident occurred on August 17.
The children's father, Drew, was washing a car next to their vehicle. Inside, the air conditioning was on, and the windows were rolled up.
According to family friend Natalie Graham, who set up the fundraising page for Drew and wife Lisa, Logan 'somehow got his neck stuck in the window of the vehicle'.
"When he was discovered, he wasn't breathing. Logan was without oxygen/pulse for a significant amount of time as family and medical personnel repeatedly gave him CPR," explained Natalie.
Logan was air-lifted to hospital for treatment, and was initially non-responsive to testing. He also exhibited low levels of brain function, while his body was undergoing convulsions.
The family's world was 'turned upside-down' when they were told that the damage to Logan's brain was 'extensive' and 'the worst case they had ever seen'.
Hope did spark for the family, however, when the seriousness of Logan's case was downgraded two days later. Doctors estimated that Logan had not been without oxygen for as long as they initially thought, and they recommended for the family to wait for three to four days for prognosis.
Despite the fact that Logan began to respond to touch days later, even breathing easier, he passed away on Thursday.
A message from grieving mum Lisa read: "Drew, Logan's dad, was holding Logan while 20 friends and family members were singing praise and worship songs together in his hospital room.
"I felt a strong urge to hold Logan. He just wanted his mummy. Moments after I got him, he took his last breath.
"At 1:07am, Logan went to be with the Lord. We are comforted knowing he is in the best place possible. It will be hard, for sure, though….
"Thank you for your prayers, and please continue to pray for all of us, especially his sister, Kendra. You all say I'm strong, but you are all the strong ones."
Generous members of the public have already donated to the 'Love for Logan' fund, exceeding the $10K goal by over $7,000.
The Vanderkleed family are in our thoughts and prayers this weekend.