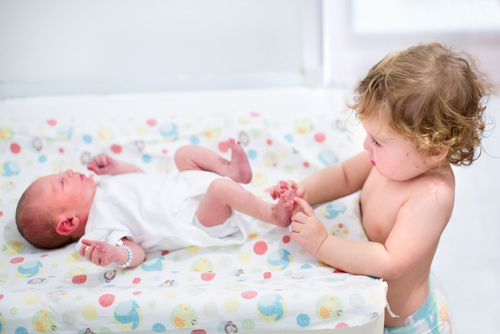 While you may be overjoyed at your new arrival, it doesn't mean your toddler is. For many, a new baby in the house is a huge adjustment and many can feel jealous of their new brother or sister. If your little one is showing signs that they are struggling with the new baby there are a few things you can do:
Get them involved
Your toddler might be feeling left out if your new baby is getting all the attention, so it is important you keep them involved in what is going on. Ask them what they think of a baby's new top or get them to open a gift a person may give you or your new son or daughter. When changing your newborn's nappy, get your toddler to help out by getting wipes or baby clothes. And if you are breastfeeding, ask them to sit beside you while your baby feeds.
Give them your attention
Obviously having your undivided attention before the baby arrived will mean your toddler will be feeling a little left out now. So, if possible, try to spend time with them without your newborn. For instance, when your newborn is napping spend time with your toddler baking, drawing or colouring – doing things that you used to do together before baby arrived. This way they won't feel like everything has changed.
Don't push it
If your little one really doesn't want to get involved or ignores their sibling, don't force the issue. Pushing them to make friends or forcing them to be involved with the baby will only backfire on you as they might start to resent their younger brother or sister. You need to take things slowly. Over time, your older child will adjust to the change, so just be patient with them until that happens.
Avoid any negative feedback
If your little one tries to get involved with the new arrival, but in a not-so-helpful way like covering them in teddies or toys, don't get mad. Say thank you for trying to help, without getting mad, and maybe offer different ways to share toys. Talk about how it is very important to be gentle when near baby.
Make a big deal of being an older sibling
Make a big deal of the fact that your little one is now a big brother or sister. Talk about how it is a huge responsibility and that it is a very important role.