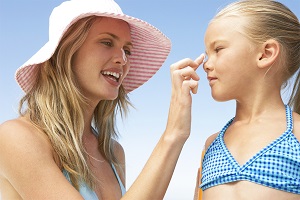 Thankfully it's that time of year again when we need to consider how best to protect our little ones from the strong UV rays. Sometimes we associate sun cream and sun care with going on holidays or travelling abroad, but actually it's as important to be proactive when we are at home in Ireland too. The UV damage is just as bad in Irish weather as it is abroad – 90% of the UV rays can penetrate light cloud coverage. Did you know that getting sunburnt in your childhood increases your risk of melanoma later in life?
The most at risk for sunburn or UV damage are redheads, those with fair hair, people with pale skin, moles, freckles and people with blue, green or grey eyes, accounting for a large proportion of Irish children!
To help you keep your babies safe this summer I've put together some tips and product recommendations for both babies and toddlers:
Babies and the sun
Keep babies younger than six months of age out of direct sunlight as much as possible.
Dress them in close woven (i.e with no holes – so that the sun cant get through) clothes – long sleeves and long shorts or trousers.
Use a sun shade on your buggy when out and about.
My favourite sun protection for babies is the new Anthelios Dermo-Baby by La Roche Posay. This product is recommended for babies over six months (as babies under six months should not be in the sun) but can be used on babies as young as three months, so long as you do a patch test first to ensure they are not sensitive to any of its ingredients.

To do a patch test, just apply a small amount to a small area and leave for 24 hours to see if a reaction occurs – if there is any irritation in the area after 24 hours then avoid use of that product. Anthelios Dermo-Baby is suitable for babies with sensitive skin and it's non-perfumed and free from parabens. It's SPF 50+ and can be used on the body and face. It's slightly white when it goes on which is actually quite helpful as you can see where you have put it and where you have missed. It absorbs well (my youngest was my guinea pig!) and really leaves the skin soft and supple. To apply this cream you can put it on 30 minutes before going out and about and then reapply it every couple of hours.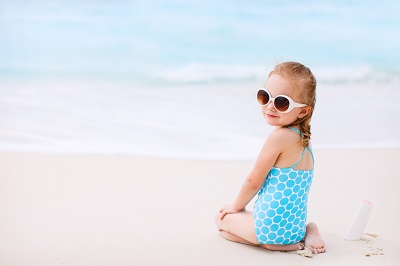 Toddlers and children in the sun
Always use a sun hat – preferably one which shades the face, neck and ears.

Use sun cream with a minimum SPF of 30.

Apply sun cream 30 minutes before going out in the sun and reapply it generously every couple of hours.

Try to involve your children in the 'creaming' up process so it's not seen a such a chore and they learn to be sun smart!

Try to keep children out of the sun between the hours of 11am and 3pm when UV rays are at their strongest.

My favourite product for children is the Anthelios Dermo-Kids by La Roche Posay as again it is suitable for sensitive skin. It's SPF 50+ and is easy to apply. Its water, sand and perspiration proof so very suitable for fun loving toddlers! This product can be used on the body and on the face and it goes on slightly white – again this is handy so that you can see where it has been applied! It absorbs well and leaves the skin in good condition! It comes in a lotion or a spray. The spray gives a continuous mist which can make application a whole lot easier! The lotion comes in two sizes – 100ml and 300ml – the price difference is negligible so go for the 300ml unless your travelling!!

Use a lip balm containing SPF 50 – I like the UVISTAT one as it tastes like oranges :)