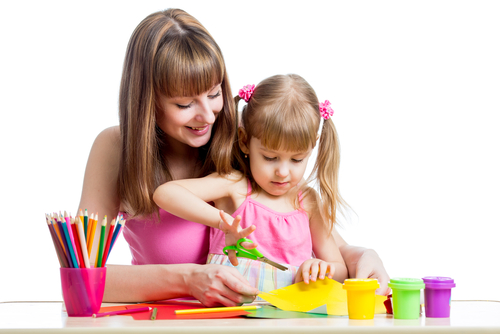 Preschoolers can be hard to entertain, especially during the summer months. But sometimes the simplest things can create the most fun filled activities for our tots. Here are some great preschooler craft activities that only require easy-to-find household objects.
Paper photo frames
What better way to preserve some family memories than with your own tot's creations. Paper photo frames are not only creative as there is no limit when it comes to decorating these frames. Paper frames can also utilize pieces of scrap paper scattered across your house. It will also help to improve your tot's motor skills through creating different shapes and colours with paper.
Play dough
Play dough is perfect for keeping your tot entertained during those rainy days, and can be even better if you can make your own homemade play dough. All you need is flour, salt, tartar cream and food colouring. Then add all of these ingredients in a pot and cook the mixture over medium heat until solid. If you don't have the time, your tot can have just as much fun with shop bought play dough.
Paper puppets
Paper puppets are another way of using up the scrap paper lying around the house, as well as honing in on your tot's creative skills. You can either create fun animals with the paper-bag puppets or whatever your preschool prefers. All you need is some coloured paper and staples, but for safety reasons stapling the finished product should be left to you.
Paper dolls
Forget purchasing dolls for your tot when they can create their own toys using some paper and old photos. Your preschooler will not only feel proud about their creation, but will love to play with life-size versions of themselves.
Goop
Messy and colourful – goop is the perfect way for your tot to pass the afternoons. All you need to make goop for your little one is: corn-starch, food colouring, glue and water. Your tot will have hours of fun with this strange but colourful substance.