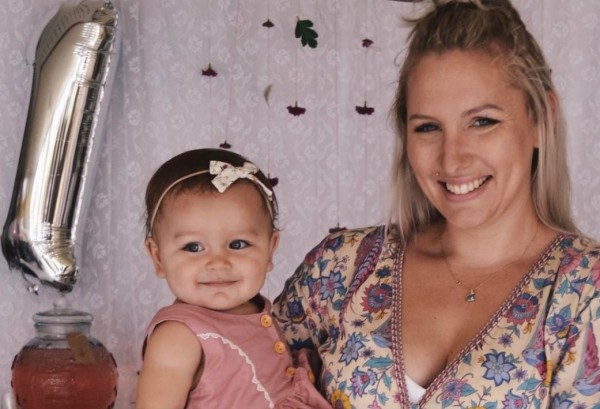 No matter how prepared we think we are, accidents can always happen – and when we have little ones to look after, we are always that little bit more worried.
One mum who can absolutely relate to this is Australian mum-of-two Bec Crombie, who has shared a powerful post about the importance of being vigilant, while also not judging other mothers.
Bec – who blogs at That Mum Wife Travel Life – shared a post this week entitled 'I almost killed her', in which she detailed how her one-year-old daughter Nylah almost had a very serious accident.
The traumatised mother wrote: "Today, I almost killed my daughter. I feel sick even writing this. I'm not sharing our story for attention or sympathy, but as a scary wake-up call for us all – to stay vigilant. The truth is, I'm so beyond embarrassed that it happened 'on my watch', because I'm such a cautious parents as it is, but I feel it's important to share in the hope that this, or similar, NEVER happens to anyone else."
She then described what happened, as she was prepping meals with her daughter, Nylah, who recently turned one.
"I had peeled and chopped the potatoes, placing them in the pot and the knife back on the board, when I took one step to the left to remove the husk from the corn. As quickly as I had briefly stepped away, Nylah had stood up and grabbed the board from the bench. Which resulted in a 20cm knife falling and narrowly missing stabbing her in the face," she recalled.
Once the shock had worn off, Bec couldn't help but wonder how lucky she and Nylah were, that nothing worse had happened – because, as we all know, 'accidents like this happen all the time'. And while Bec has in the past been criticised for being a 'helicopter parent', she knows now that she's right to be cautious.
While Bec never, ever forced her opinions on people before, she is now urging others to be vigilant, especially 'in the kitchen, in the bathtub…in and around pools/lakes'dams/rivers/waterways and beaches, and in carparks'.
"It's also a timely reminder that we should NEVER judge another mother or family in the face of tragedy (or ever, really). All too often, I see comments on social media in relation to tragedies and accidents (such as drownings or children who have wandered off), saying things like, 'That would NEVER happen to me'…Truth is, it CAN happen to you…These types of things happen to EVERYDAY people, EVERYDAY," wrote Bec.
"They are labelled 'accidents' for a reason, they are purely accidental, freak occurrences…So please, keep comments, opinions and judgements to yourself, and take these incidents as lessons and warnings to always stay on the ball."
Needless to say, Bec's band of followers has come out in support of the mum, thanking her for sharing that important warning and assuring her that there is 'no judgement'.